You spend 33.33% of your day on your mattress! With so much valuable time spent in bed, don't you think it deserves some TLC from you? We know you love the comfortable sleep you get on that mattress, but don't you want to this cozy relationship to last!?
Be it cleaning or prevention, some effort to keep your mattress clean is genuinely essential. Keeping your mattress in the best shape will allow it to last longer and ensure years of comfort-rich nights ahead.
To help you clean and maintain your mattress better, we have come up with easy mattress care tips for you! Let's begin!
How to clean a mattress in simple steps
#1 Use Vacuum cleaner regularly
Using a vacuum cleaner is the simplest and fastest way to clean your mattress. This can remove many layers of dust, dust mites and dead skin. Use your vacuum paired with the upholstery attachment so that the pillow top or mattress cover isn't damaged. Start vacuuming from the top and move towards the bottom while paying attention to all the cracks and crevices. Repeat the same on the mattress's reverse to get it cleaned from all the sides.
If you notice odor coming from the mattress, you can sprinkle baking soda on any areas where odor lingers. Leave it for some time, and then use the vacuum cleaner on the surface. Such cleaning will ensure you have an odorless and clean mattress.
#2 Remove stains without any delay
To keep your mattress clean, you need to ensure that stains are removed without delay. (Even better, get a mattress protector, see below!) If there is ever a spill on the mattress, instantly blot away the liquid with a clean and dry towel. If you allow a spill to get soaked into the mattress, it will lead to odor and mold.
Laundry detergent and water are excellent remedies to get rid of tough stains. Make sure you do not use hot water to remove stains as it can work adversely by allowing the stain to settle in permanently. Allow the mattress to be completely dry before putting the sheet back.
#3 Make a habit of washing
Taking a shower before going to bed will help get you rid of sweat and dead skin cells. We often sweat as we sleep. This sweat combined with dead skin cells can stain your mattress and cause lingering odor.
Wash your bed sheets, cover, and pillowcases once every two weeks. Try to keep your room cooler so that you sweat less, and the mattress cannot soak in any body fluids.
Do not snack or drink tea/coffee on the bed. Food crumbs or drink spills can invite unwanted pests on your mattress, leading to unhealthy sleep.
#4 Air out your mattress
One of the most important habits to keep your mattress in good shape is to air it out before putting the sheet and pillowcases back. To allow this, keep your windows open for fresh air and sunlight to enter the bedroom for at least 30 minutes before making the bed again.
Such airing out is essential as moisture trapped inside can lead to mold and mildew. If you allow sunlight to come inside the room, the UV rays ensure that any bacteria build-up is restricted and odor is removed faster!
#5 Add a mattress protector
Pehaps the most important rule for new mattress care tips is to make sure you purchase and use a mattress protector. A mattress protector works as a layer between you and the mattress keeping any unwanted dirt, dust, and stains away. Many manufacturer's warranties require you to keep your mattress stain-free, thus a mattress protector is essential for keeping your mattress warranty valid.
If you're concerned that your mattress protector is making you feel hot, you should try out some of the available cooling mattress protectors. However, you need to wash your mattress protector regularly so that it remains clean.
Best Mattress Protector For You!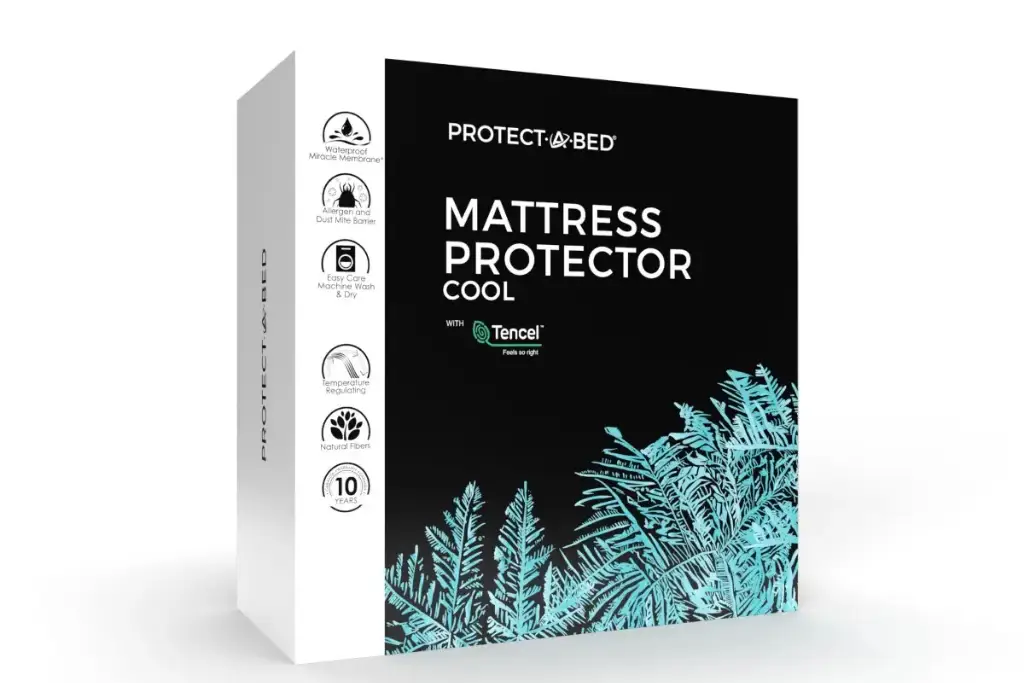 This mattress protector works like magic as it's made of Natural Tencel. The hypoallergenic qualities of the Natural Tencel make it excellent for those suffering from allergy issues. People with sensitive skin can use this mattress protector, and also the Miracle Membrane makes it 100% waterproof. The Therm-A-Sleep Cool mattress protector also helps the sleeper stay cool as the Tencel has thermo-regulating properties.
#6 Clean your memory foam mattress
Memory foam mattresses can also be cleaned with similar methods, but the most crucial thing to remember is that you cannot use any harsh chemicals. The memory foam might get damaged with chemicals, and it might affect your sleep experience. Remember that memory foam takes a longer time to dry out, and hence you have to be patient when you are cleaning it. You can read more about cleaning memory foam mattresses here.
With all these easy mattress care tips, you can take great care of your mattress and ensure it stays comfortable for long. A good mattress can help a great way to ensure peaceful sleep, which will revitalize your body for the next day.
You can check out a wide range of sleep accessories such as mattress protectors and mattress toppers at Mancini's Sleepworld. Our website also offers a flawless online shopping experience so that you don't need to step out for sleep shopping!