Create your very own at-home oasis right in your bedroom. Your bedroom should be a place of complete relaxation where you can retreat after a long day. While there is no right or wrong while styling your bedroom, a little guidance won't hurt.
Apart from essentials, to enhance the Zen vibe, you need some optional décor pieces to create a peaceful and aesthetically pleasing room bedroom. A few basics and a few tasteful accents complementing each other, and you are good to go. Let's get started.
Essential bedroom furniture
Below is a list of must-haves to create the perfect bedroom setting.
An Adjustable Foundation
Enjoy the ultimate sleeping comfort with an adjustable foundation in your bedroom. Nothing can beat the functionality of this piece of furniture. Your sleep is completely customizable, with either your head elevated or your legs at any angle you wish. Pamper yourself with either a book or watch TV or enjoy breakfast in bed with this sleek and stylish piece in your bedroom.
Aireloom Platinum Contour Elite Adjustable Foundation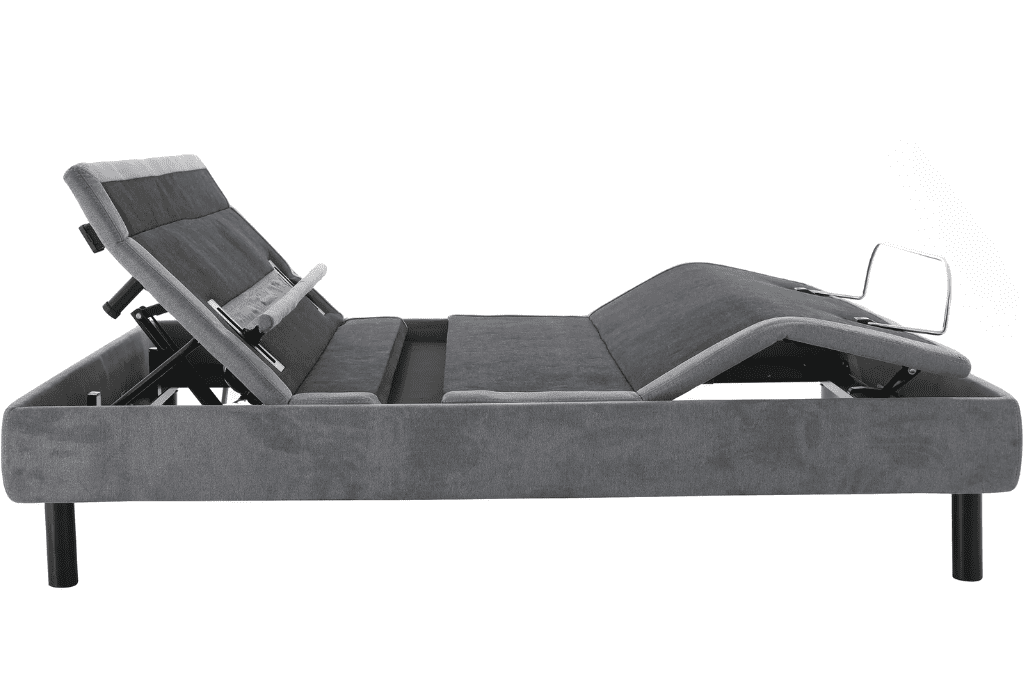 Our top recommendation for an adjustable base is the Aireloom Platinum Contour Elite. The base is designed to optimize the shape of your mattress when in an elevated position, allowing you to rest more naturally. As the head section raises, the platform expands and moves towards the wall, allowing the mattress to conform to the angle of the base, reducing any bridging or compression of the mattress and can provide an easier transition for the stomach. An easy-to-use remote provides access to programmable presets.
A Plush Mattress
The one thing that must top the list should undoubtedly be your mattress. Never underestimate the importance of a good mattress for a good night's sleep. But not sure which mattress is best for your body type?
Check out our SleepMatch technology, which matches you to the perfect mattress according to your body type and sleeping pattern. The color-coded guide will ensure you get the ideal mattress for a good night's sleep.
Get unmatched sleep with a mattress compatible with your body type and with an adjustable foundation.
Purple Hybrid Premier 4 Mattress 13"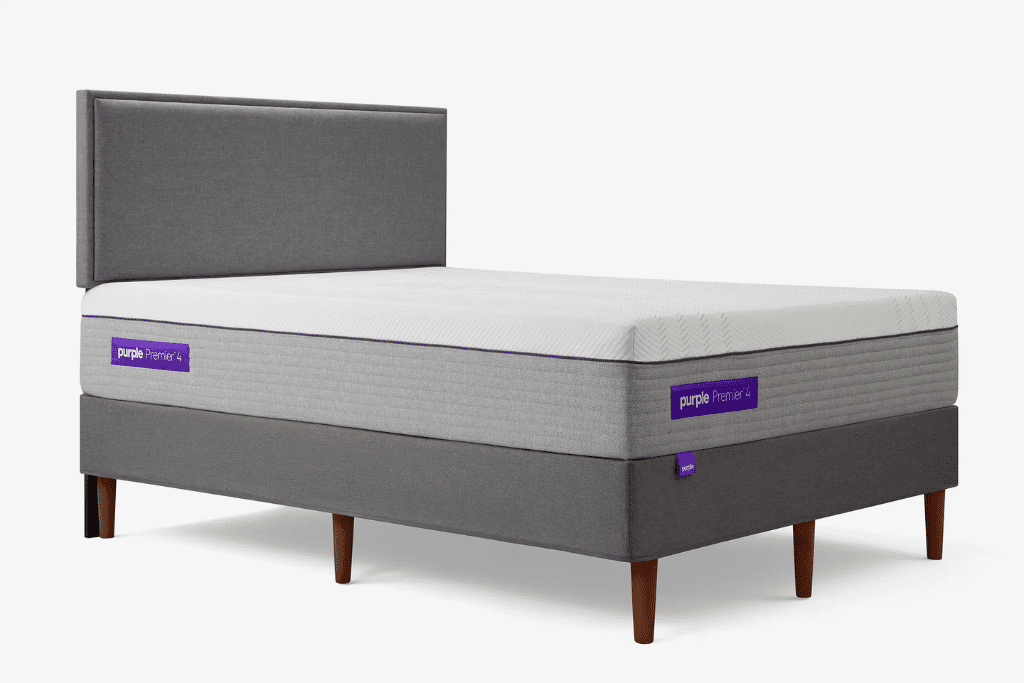 Purple's thickest layer of GelFlex Grid provides the most pressure relief and most immersive feel. It's ideal for sleepers who want alignment paired with comfort that feels soft and cradling. Supported by a layer of stainless-steel coils, the Grid creates a buoyant response that instantly adapts to your body and movement.
A pair of nightstands
Extra storage space? Of course, yes!
Nightstands are considered bedroom essentials because it's a great choice of furniture not only for the look but also for storing your nighttime must-haves. Keep your bedroom clutter-free with a great pair of nightstands.
Not just are they functional, but they can upgrade the look of your bedroom while balancing the space beautifully. Be sure to check the height and width of the nightstands according to the bedroom's dimensions before purchasing.
Complete your bedroom look with a unique pair of nightstands only at Mancini's Sleepworld.
Aspen Home Cambridge Deluxe Nightstand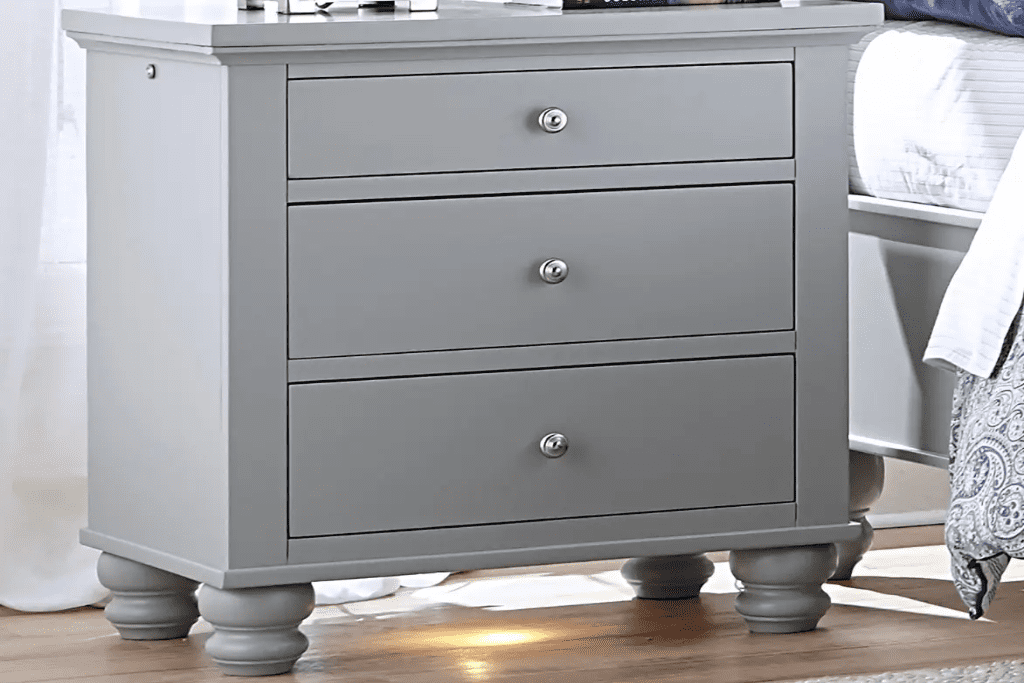 A Dresser
Dressers come in various sizes, shapes, and colors. The placement of these dresses is what matters the most when styling your bedroom. Depending on the dimensions of your room, you want to pick the size of your dresser.
Even though dressers offer ample storage space, ensure you don't over-clutter the tabletop. Our recommendation is the Modus Paragon Dresser at Mancini's Sleepworld.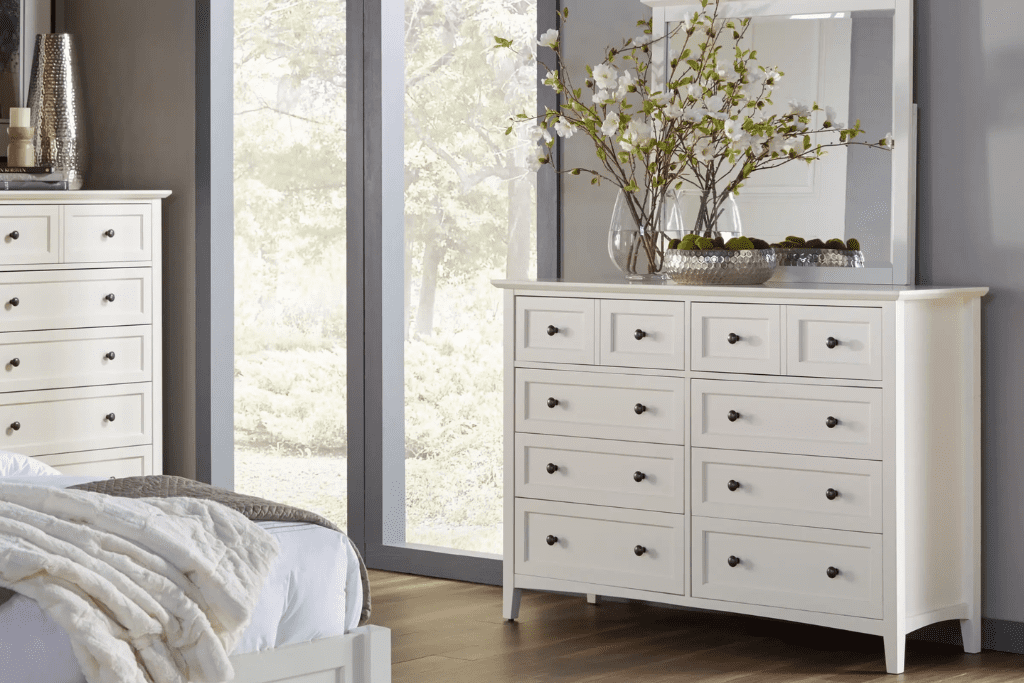 A Chest of Drawers
A classic Chest of Drawers has several drawers stacked one on top of the other. It is one of the most convenient and loved pieces of furniture, and it provides ample storage space and can accommodate clothes, accessories, cosmetics, bedding, etc. It is also multi-functional; one can use it as a dresser, TV stand, and bedside table.
A Chest of Drawers is a functional piece of furniture that should fit perfectly in your bedroom simultaneously, not block movement and look odd.
A soft Chalk White finish on Pine veneers and solids creates a relaxed beachy feel in any bedroom with Heron Cove. A high back beaded framed panel bed lends shaker appeal and is available with hidden rails storage. Straight legs support the straight-lined chests with raised beaded trim for cottage appeal.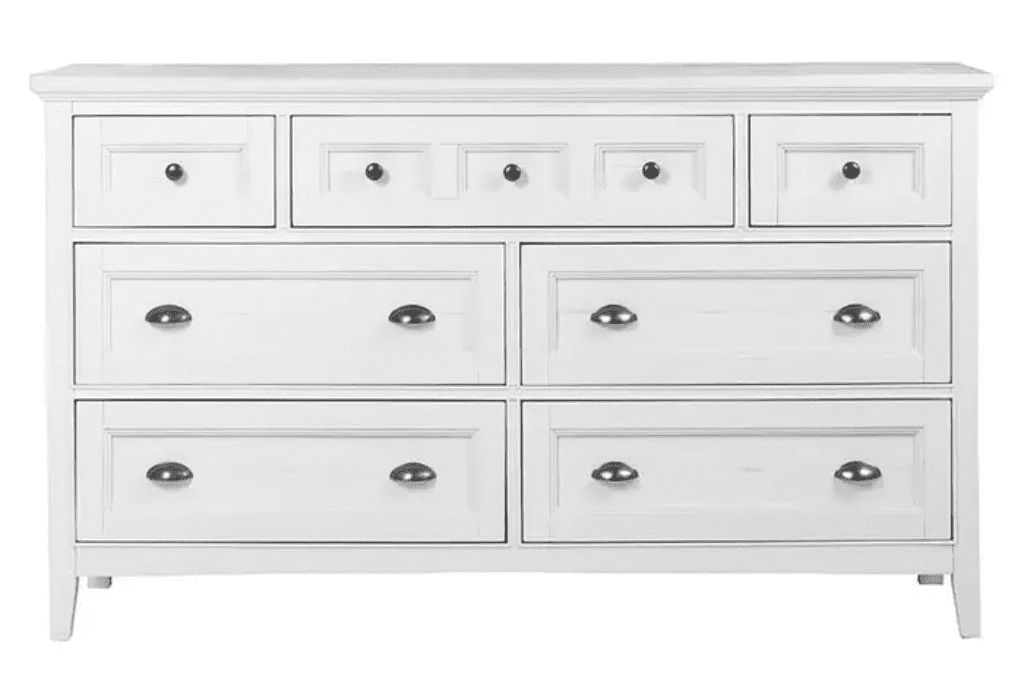 Nightstand Lamps
Nightstand lamps are non-negotiable. Bedside lamps on either side of your centered bed can instantly accentuate the look and feel of your bedroom. A pair of matching lamps will take up little space and pack a serious punch. Lamps are the best way to illuminate your bedroom and create that soft ambient lighting mood.
Pacific Coast Lighting Reflections Set of 2 Lamps
Take a look at the open rectangular bases with roman inspired accents lamp set.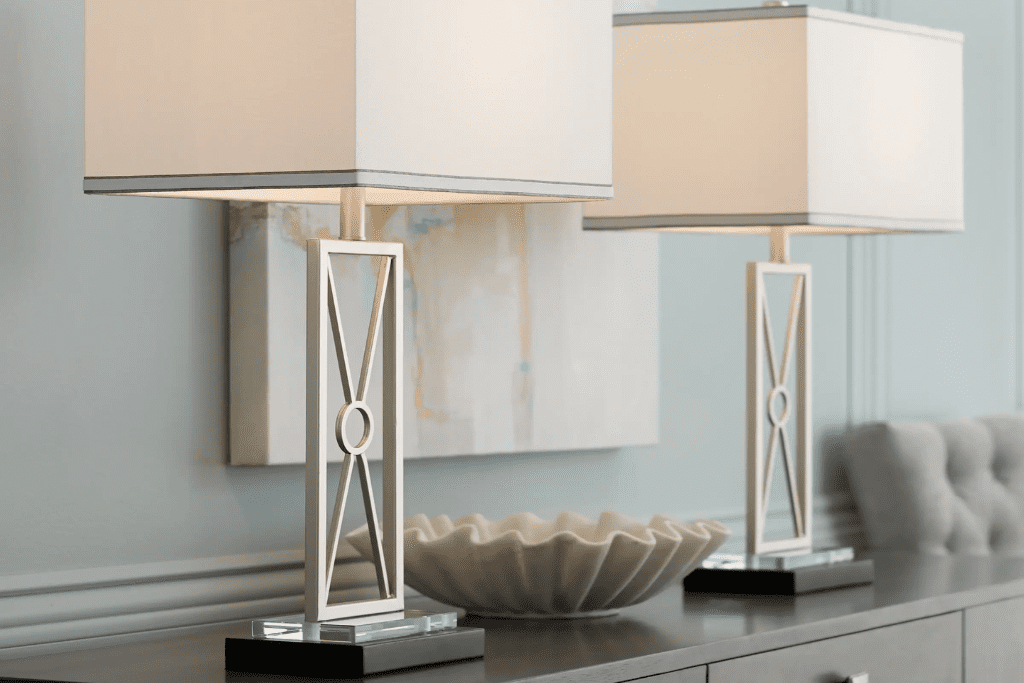 A few Dos and Don'ts
Do invest in a great mattress.
One of the best things you can do for yourself, and your bedroom is investing in a great mattress. A great quality mattress can make all the difference to your bedroom not only in terms of getting you great rest, but it also aesthetically enhances the look of your bedroom.
The market is filled with mattresses designed for different body types, sleep positions, and needs. Use SleepMatch at Mancini's Sleepworld to get that perfect mattress for your body type and improve overall health and wellbeing.
Do keep your bedroom blue-ray light free.
This might be a personal choice, but sleep specialists recommend a bedroom space away from electronics and other blue-ray light-emitting devices. A bedroom is a space to relax and unwind, and you can only do that if the space does not include any electronics. Having electronics in your bedroom can make falling asleep difficult, and it is best to create a calming sleep environment that will help you drift off to sleep as soon as you hit the pillow.
Don't clutter
It is not possible to relax in a cluttered and messy room. It's best to keep your bedroom clutter and mess-free. While accessorizing is essential, over-accessorizing can create clutter. Many of us are guilty of cluttering books, glasses, night beauty products, and much more on the nightstand. Try to keep your nightstands as mess-free as possible for a relaxed night of sleep.
Don't rely only on one light.
Take lighting seriously while designing your bedroom and notice all the difference it makes. Correct lighting can create a relaxing atmosphere in the room. Relying only on one light in the bedroom does not create an atmosphere conducive to rest. Our recommendations are lamps on nightstands to create soft lighting and a relaxed vibe.
Don't feel pressured by design trends.
You may research on the internet for various styles and patterns and looking through the latest popular designs and trends is fine as long as you don't put that unnecessary pressure on yourself. Remember that your bedroom should reflect you, your personal needs, and your requirements.
Closing thoughts...
Even though there are several things you can buy to style your bedroom, choose the right furniture according to your taste and personality. Ensure there is enough room for free movement in the bedroom. It is necessary to pick furniture carefully and not be led by emotional impulses.
If you are still stuck after spending considerable time on the internet to find the right furniture and décor accents to style your bedroom, drop into your nearest Mancini's Sleepworld and look at the vast array of bedroom styling pieces in-store and online.