Finding furniture for your kid's room is trickier than you may think. It's best to understand the need and then plan furniture purchases in a way that will suit your kids best. Kid's room furniture selection needs thorough research to fit perfectly to your home's overall interior.
Ask yourself these questions before you plan for kid's furniture-
What furniture does a child need?
Which furniture won't outgrow your kid?
The functionality of the furniture piece?
Whether the furniture is comfortable and high quality.
Here's everything you need to know about kids' furniture! This guide will help you shape your kid's room better.
Things to keep in mind while buying furniture for kid's room
#1 Make a plan
Visiting a furniture store without proper planning can overwhelm you with the wide variety of choices available. Before purchasing, decide the purpose of the furniture and how long you would want your kid to use it. With a proper plan and a set budget, you can quickly narrow down your list and choose the ones that'll be the perfect fit for them.
#2 Choose multifunctionality over everything else
For kid's furniture, choosing versatility is of the utmost importance. Children outgrow their clothes, toys, and furniture very fast, so it is essential to buy kids furniture that can be used when as they grow. For example, you can choose to buy a cradle-shaped padded chair instead of a changing table. Then, when your kid no longer needs changing, they can enjoy rocking in the chair!
#3 Think long term
It's easy to let emotions drive when buying furniture for kids.However, furniture should always be purchased for the long haul. Choosing a table for your kids' room that can be remodeled as a study table as they grow is a prime example of this. While you might want to fill the room with cute-looking kids' furniture, planning for growth and style changes is essential.
#4 Make safety a priority
No manufacturer can think of all the different ways a kid will use their furniture. A kid can jump over the furniture and go under it to look for a toy, which makes safety the foremost concern. Avoid sharp edges and slippery surfaces on the furniture you buy for your kids.
#5 Choose more storage space
Kids are messy when it comes to keeping their stuff in place. When you step into a kids' room, you may find toys, clothes, pencils, and many other items scattered. This is why it is suggested to have proper storage space in a kid's room. Such things can also turn into a safety hazard for the kids, so choosing furniture with storage space is absolutely necessary.
With all these points in mind, we bring to you some of the top furniture for children you need to know about NOW!
Homelegance - Galen Corner Bookcase Bed Twin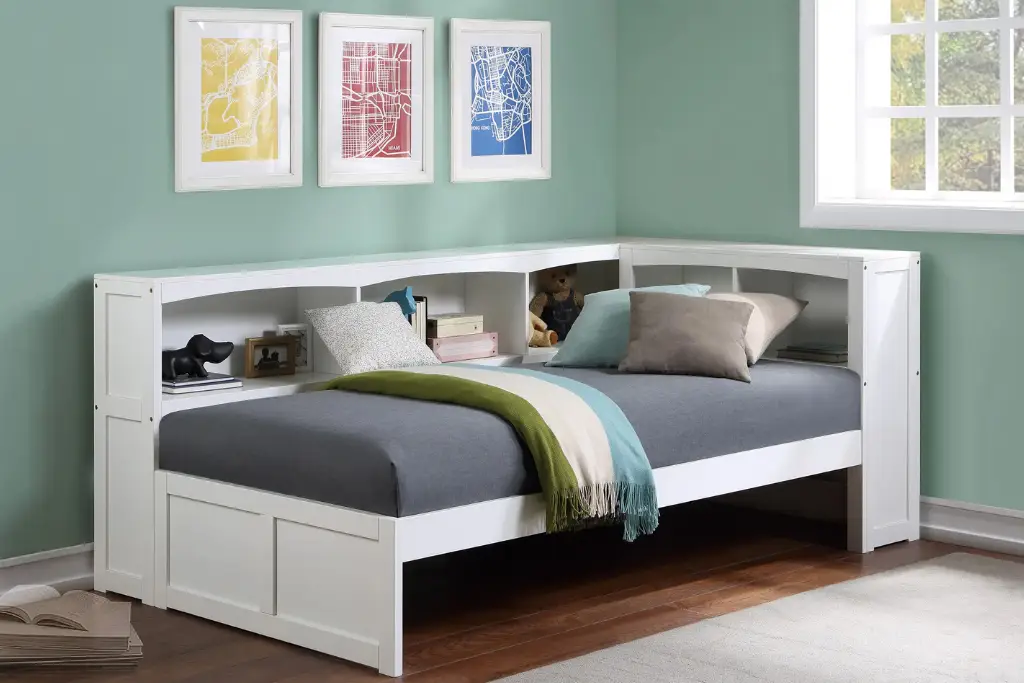 Just as we mentioned that more storage space would add value to your kids' furniture, this corner bed does precisely that. The Galen Corner Bookcase Bed Twin offers enough space for the kids to store their books and other essentials on the shelves attached to the bed. You can place this bed in the corner of the room while it will serve the purpose of a bed and bookshelf together. The corner bookcase bed has a white finish which fits in perfectly for your kids' room.
Trendwood - Bunkhouse Cheyenne Bed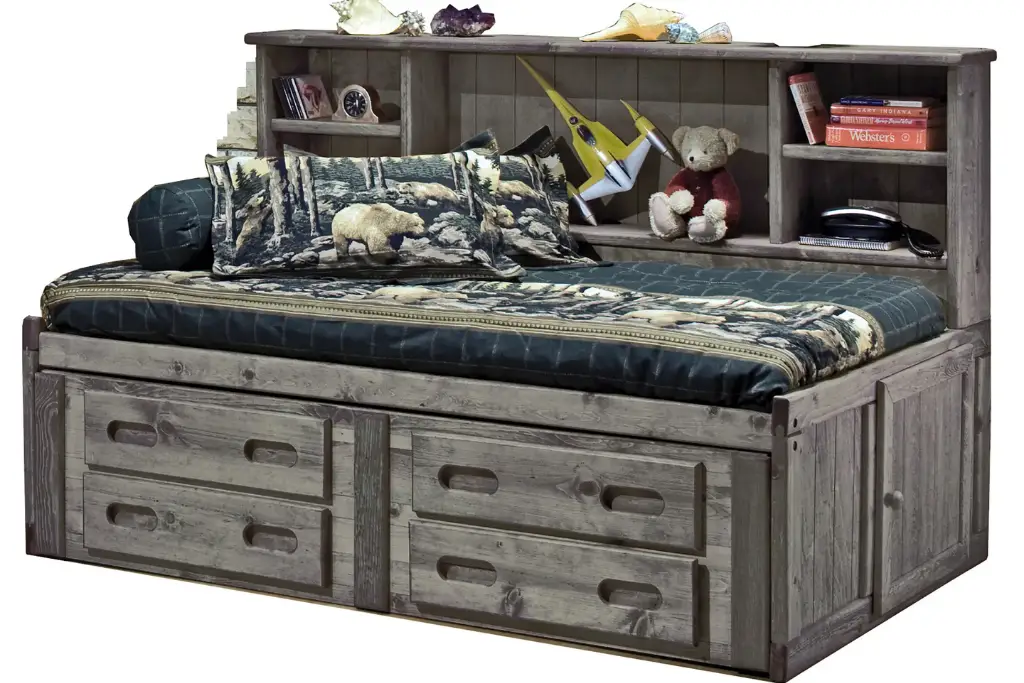 The Cheyenne bed offers great sleeping space for your child along with a casual and rustic appeal to the interiors. The bookcase headboard provides excellent storage space as it has four built-in compartments. The bed also offers under-bed storage wherein you can stuff bed linen and other essentials. You can also add a great trundle unit if your kid has a sleepover guest! Plus, the Cinnamon wood finish offers a look that easily fits into your kids' room.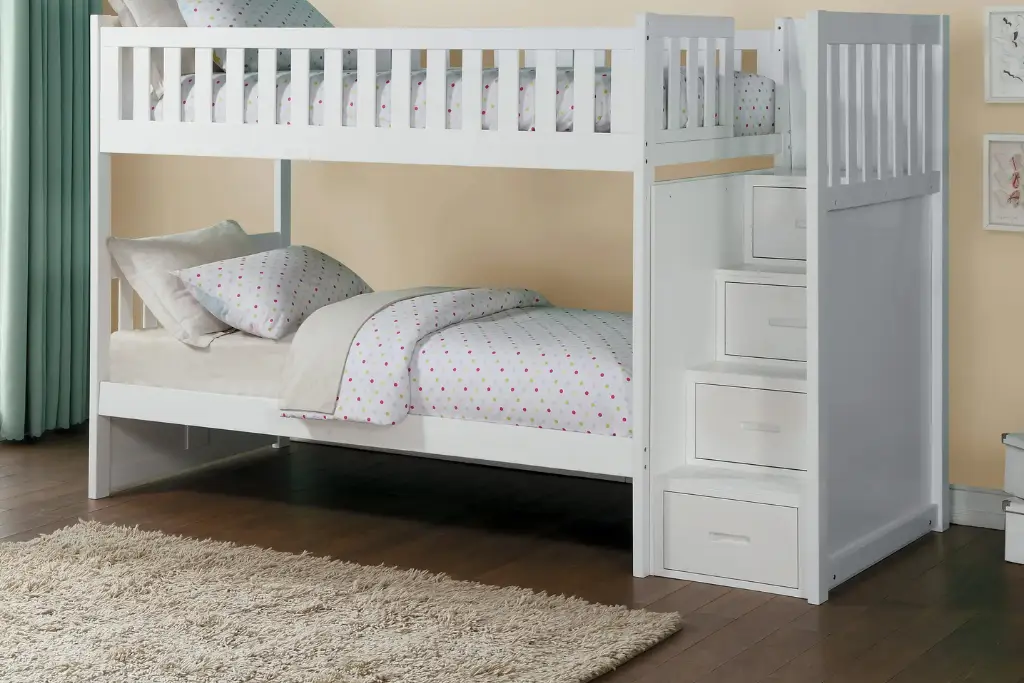 This sums up as the best bunk bed for your kids' bedroom as it offers space for two people to sleep along with a storage option. The Galen Bunk bed takes up very little space and leaves room for your kids to play in the room as they want to. The storage stairstep is a great way to keep all the essential things without making them a mess in the room. Also, this is a good investment because this can run for a longer period even when your kids grow up.
Summing it up, choosing furniture for children needs to be done keeping all the points in mind. Here, the products showcased are some of the best picks from the Kids' furniture category. You can always visit your nearest Mancini's Sleepworld to check out more utility furniture for kids.
We understand that for every parent reading this, nothing in this world is more beautiful than their happy child! So go ahead and have a great Kids' furniture shopping experience with Mancini's Sleepworld. At Mancini's Sleepworld you also get a wide variety of mattresses and sleep accessories with try before you buy it option!