Your bedroom needs to be a sleep sanctuary you'll crave to enter every night after a tiring day. Whether it is your new home or a renovation, getting the design right for the bedroom is of utmost importance.
The main goal in choosing bedroom furniture is for it to be comfortable and practical. Look for functional furnishing with a tasteful ambiance.
If you are looking to furnish your bedroom, you have arrived at the right destination, and this blog will guide you on what to choose for your bedroom.
Bedroom essentials you cannot miss!
An adjustable bed
Your bed is the highlight of your bedroom as you spend your best 8 hours on it, so it deserves the most attention.
Adjustable beds are proven to enhance sleep comfort and reduce ailments that interfere with sleep. With an adjustable foundation, you can achieve the zero-gravity sleep posture or elevate the upper or lower part of the body just by pressing a button. This is great for those struggling with sleep apnea, acid reflux, GIRD and other issues. Plus, it makes reading or watching videos in bed much more comfortable.
If you are looking for an adjustable bed, here's a suggestion from Mancini's Sleepworld.
Tempur-Pedic Ergo 2.0 Adjustable Base with Sleeptracker AI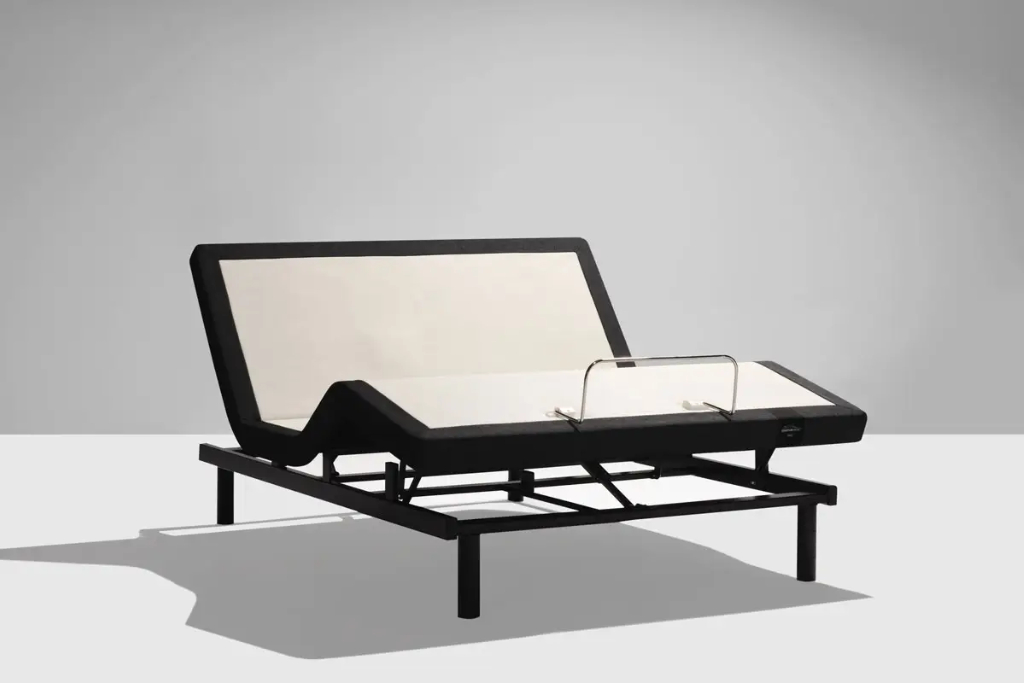 The Tempur-Pedic Ergo 2.0 adjustable base with Sleeptracker AI is one of the best adjustable bases that you can buy for your bedroom. The AI detects breathing patterns and motion during sleep and then automatically adjusts the base. The snore detect technology works like a charm as it elevates the upper body when any snoring noise is detected. If you are someone who prefers to work from the bed, then this adjustable base also has a USB cable. You can plug in your laptop and elevate the bed to make it your perfect workstation!
Perfect Mattress
At the end of the day, your sleep surface needs to be perfectly aligned to your body and help in pressure relieving. Our mattress buying guide can help you choose the right mattress.
Besides giving you comfort; a mattress adds to the room's aesthetics. Remember, picking the right mattress according to your body type is key.
Here's a top mattress suggestion from Mancini's Sleepworld for your dream bedroom-
TEMPUR-ProAdapt Medium Hybrid Mattress 12"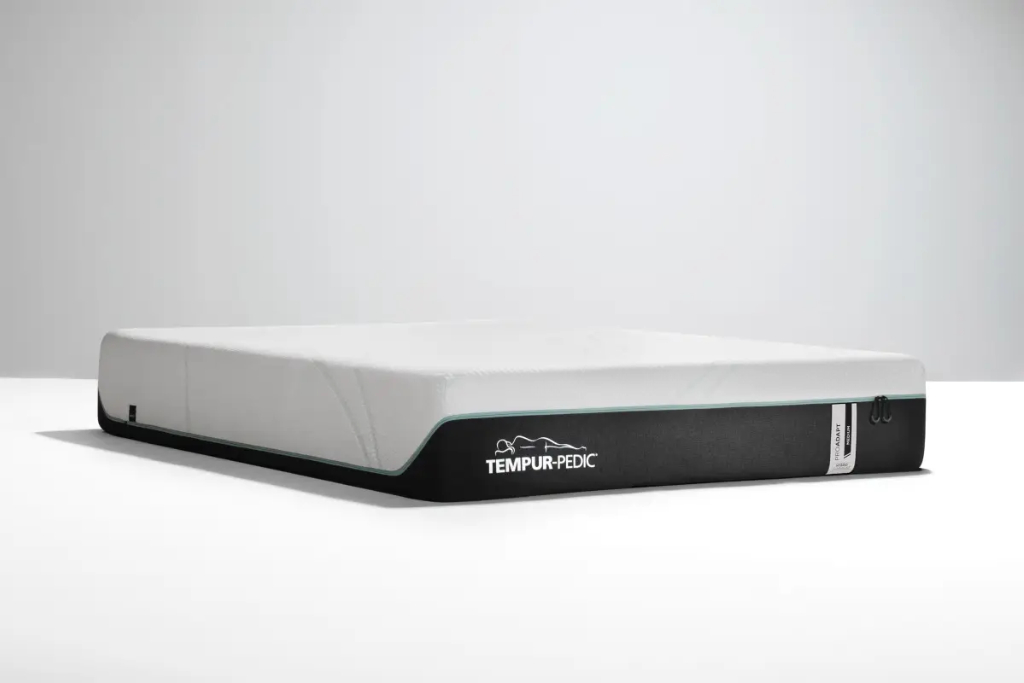 The Tempur-Pedic ProAdapt medium hybrid mattress is the perfect fit for your adjustable base. The mattress is known for offering advanced pressure relief for deep relaxation. With cooling technology, this mattress ensures you sleep through the night without any sweat. The classy premium look of the mattress will also add curb appeal to your bedroom.
Dressers for storage space
Keeping your bedroom clutter-free is a great way to feel organized and ready to start your day. For this, dressers are a crucial part of the bedroom haven. Dressers can enhance the look of your bedroom while being highly functional!
Here's a recommendation from Mancini's Sleepworld-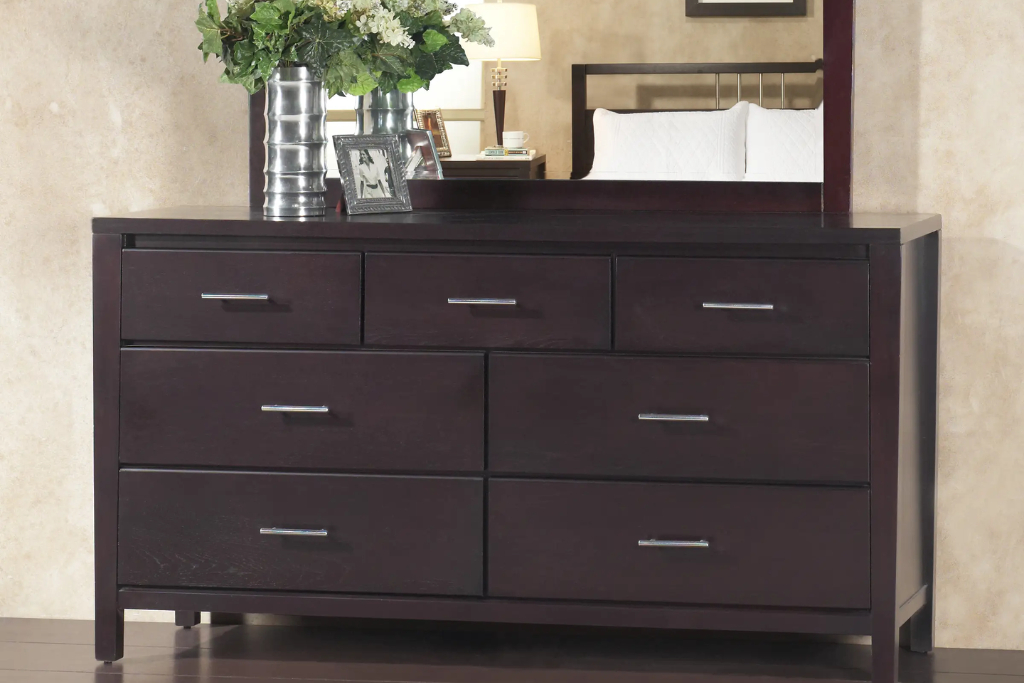 The Modus Nevis 7 Drawer Dresser is made of Tropical Mahogany solids. The drawers come with English dovetail joints and along with the corner blocked frames, they are extremely functional. This adds an exotic quotient to your bedroom while ensuring that it remains high on functionality.
A mirror is a must
Mirrors can immediately accentuate the entire interiors of the bedroom. The right placement and design of the mirror can add a lot of aesthetic value to the bedroom. If you place a mirror near the window, it will help add more light to the room during the day. You can set the mirror on the dresser's surface or hang it on the wall.
Read more about how mirrors can miraculously enhance your space.
Here is a recommendation from Mancini's Sleepworld for a mirror you will love-
The modern appeal of this mirror is immense, and it fits perfectly for your contemporary bedroom. The depth of the texture makes it pleasing to the eyes and allows the room to look wider due to reflections. You can shop for this mirror at your nearest Mancini's Sleepworld store or online through the website.
Additional tips to make your bedroom look stunning
Add a piece of art, such as a painting or an artwork, to your bedroom. It instantly makes the room more appealing.
Ensure that the mirror is placed at eye level in the room.
The color of the bedroom also plays a significant part. Use colors according to your personality and preference.
You can also add night lamps beside your bed. Keep it on the dresser surface or in front of the mirror, and it will look stunning.
The Perfect Place to Shop?
Mancini's Sleepworld hosts the widest variety of mattresses, furniture, and sleep essentials. You can visit your nearest store and try it before you buy any product.
Also, our website offers a brilliant shopping experience, and you always get your orders on time.
I hope your bedroom shopping experience is worthy! Happy redecorating.