When shopping for a mattress, Stearns & Foster designer mattresses have many options that can meet your specific preference. The brand has been in vogue since 1846 and assures quality craftsmanship and high quality for years.
Mattress choice should never be limited to aesthetics; its usability is the main thing to keep in mind. To help you buy better, we give you reasons why Stearns & Foster will be a great choice.
High-quality materials
Stearns & Foster creates quality designer mattresses to provide comfortable sleep and superior back support. They use the highest quality and highest density materials to provide the best support and comfort.
Superior support coils
The innovative titanium alloy coils in Stearns & Foster mattresses provide excellent comfort and support. Such coils are exclusive to Stearns & Foster mattresses and make for one of the specially handcrafted parts of the mattress.
Detail centric
The craftsmanship of Stearns & Foster mattresses is excellent and immense attention is paid to details. One of the prime reasons why they are referred to as designer mattresses is because of such detail-oriented design.
Firmness
Stearns & Foster offers a wide variety of firmness in their models. Based on your preference, you can choose the firmness level. Most models come with firmness levels ranging from firm to pillow tops.
Motion Transfer
If you are someone disturbed by your partner's movement during sleep, the Stearns & Foster mattress is the perfect option. The superior motion isolation feature allows you to sleep without being disturbed by your partner's late-night food cravings or loo breaks.
Edge Support
Stearns & Foster mattresses are known to have firm edges while the sleep surface feels contouring. This ensures that even if you roll over to the edge of the mattress at night, you can comfortably sleep! The surrounding encasement also keeps the mattress's inner contain in the right form throughout its lifespan.
Benefits of sleeping on a Stearns & Foster mattress
Here are some of the benefits of a Stearns & Foster mattress –
You will get a comfortable sleep with excellent support from the inner coils. This also ensures that your aches and pains will reduce considerably.
The 10-year warranty on the mattress is a great addition. Ensure you do not remove the warranty tag found on the mattress.
The good sleep you get on a Stearns & Foster mattress ensures your overall health improves. It is scientifically proven that good sleep is the stepping stone to a healthy life.
Stearns & Foster mattresses for different sleeping positions
Side Sleepers
Most side sleepers feel comfortable if the mattress is medium softness; however, this also depends on the sleeper's preference. A medium softness mattress offers support to your shoulders and hips, and the proper support helps in reducing back pain and morning stiffness.
The mattresses give a feeling of sleeping on a cloud but at the same time offer extensive support to the spine.
Back Sleepers
Most back sleepers like to sleep on firm mattresses. Based on the body type and size, the firmness level for a comfortable mattress will vary from person to person.
The spinal alignment rectification due to the presence of coils ensures that you sleep in the right manner. Also, the body contouring quality improves the overall luxury appeal of the mattress.
Stomach Sleepers
For stomach sleepers, too firm mattress will lead to neck pain in the morning. On the other hand, too soft mattress can cause spine alignment issues.
The perfect firmness level for a stomach sleeper is a medium-firm mattress so that it allows even weight distribution. Stearns & Foster Lux Estate Cassatt mattress or Lux Estate Hybrid Pollock Mattress are perfect for stomach sleepers.
Our favourite Stearns & Foster mattress
Stearns and Foster Reserve Hepburn Luxury Firm Mattress 15"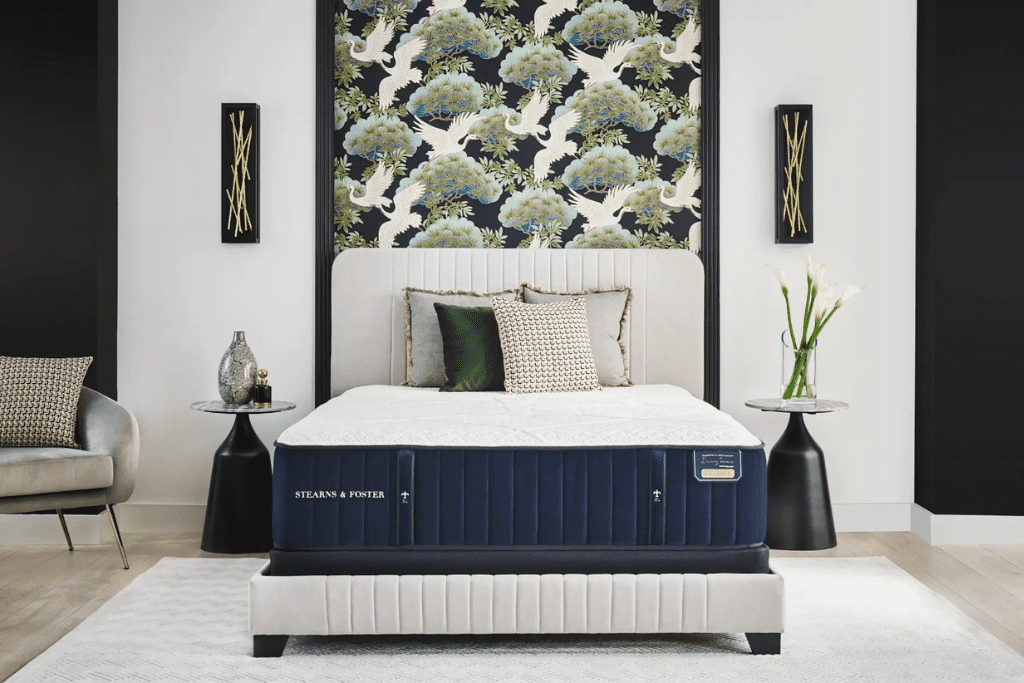 The Reserve Hepburn Luxury firm mattress is one of the most aesthetically pleasing mattresses from the brand. Right from comfort to its overall looks, this mattress aces it all. The HD memory foam, IntelliCoil micro-HD layer, and upholstery grade velvet exterior make this a stunning mattress! The mattress also offers cooling technology and supports an adjustable base so that if you upgrade to a smart bed, you can use this mattress!
Stearns and Foster Lux Estate Cassatt Luxury Firm Mattress 14.5"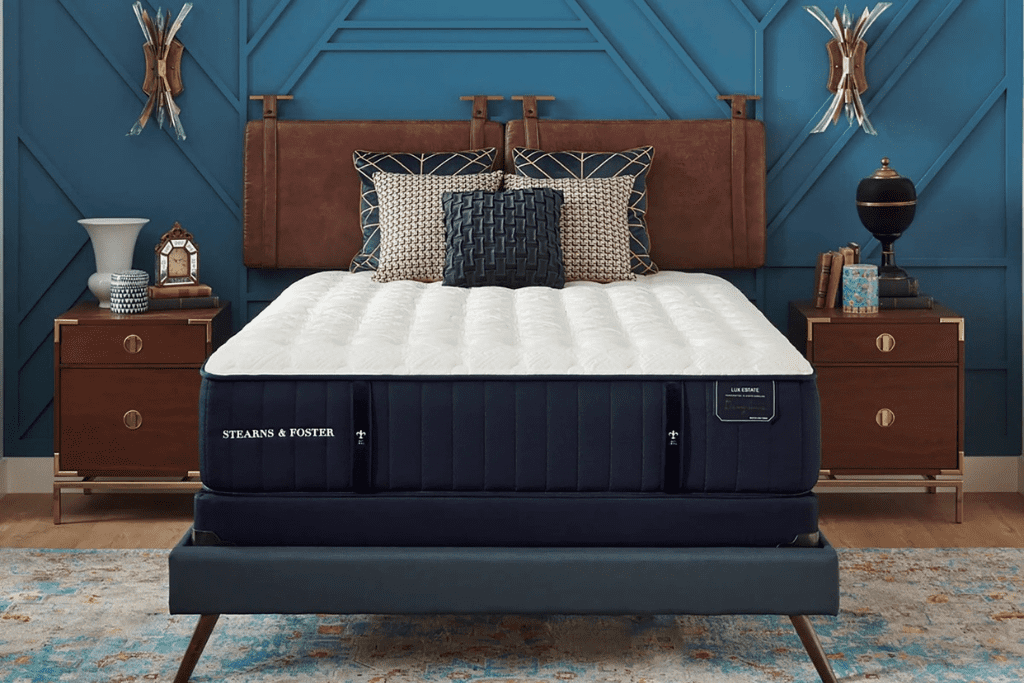 For those who are seeking firm designer mattresses. The Stearns & Foster Lux Cassatt Luxury Firm Mattress is the perfect choice! This mattress ensures that you get comfort on the next level while adding aesthetic value to the bedroom with its design. The Intellicoils HD along with Indulge HD memory foam sums up as the perfect combination for superb comfort and exemplary support. This mattress is suitable for adjustable base and also boast of superior cooling technology for hot sleepers.
The best place to buy a Stearns & Foster Mattress
Mancini's Sleepworld is the best place to buy a Stearns & Foster mattress! The wide variety on offer will ensure you can pick the variant and model which suits you perfectly. Visit your nearest Mancini's Sleepworld, or you can also shop online!