Innerspring Mattresses are the oldest and most commonly used mattresses among all the other mattress types.
Innerspring Mattress is the type of mattress that uses a metal wire system combined with springs for creating a support frame. The support frame is often covered in fabric with soft material used on the mattress's top layer for extra support.
Starting with a dense layer of springs at the base followed by a layer or two of the best memory foam or any other cushioning material. This cushioning is to provide the buffer from the large springs poking into the users' bodies when lying down.
The traditional types of Innerspring Mattresses require the use of a box spring for proper support. However, the latest, innovative models can fit in a standard bed frame. Innerspring beds are known for offering better airflow that keeps the sleeper cool throughout the night.
Who is it ideal for?
Innerspring Mattresses are highly popular for back pain relief, therefore sleepers suffering from back pain will benefit from an innerspring mattress. The advantages that make them ideal for people with back pain include a buoyant feel that comes from the medium-firm nature of the mattress. This prevents hips from sinking into the bed. Also, the edge support contains the falling-off-the-bed feeling.
These mattresses are also ideal for people with heavy weight or who sleep on their stomachs. This being a firm mattress with a contouring ability is the reason. While softer foam models are likely to sink too much, firmer models provide optimum cushioning for sleepers.
An innerspring mattress is an ideal choice for people who need excellent support and the best pressure relief during sleep and particularly if the following conditions resonate with you:
You need a firmer support
You run hot in sleep and need a cooler mattress
You sleep on your stomach or back
You are fond of a more responsive mattress
You require good edge support to get up easier
The benefits of an innerspring mattress
Super Responsive Springs
One of the primary utilities of an innerspring mattress is the support they provide because of the superlative response of its springs. They make sure that your body weight is evenly distributed across the bed so that you won't sink in. This is why choosing the best innerspring mattress to alleviate back pain is wise for people with back and spine issues.
Cooling technology
If you are a person who suffers with night sweats or excess body heat, innerspring mattresses are for you. Innerspring mattresses make your sleeping experience breathable from the spaces inside, allowing for improved airflow.
Though hybrid mattresses have multiple layers and offer pressure relief, they are less conforming than Innerspring mattresses. If you like firm beds that make you feel on top of the bed rather than sinking into them, innerspring mattresses are a good choice for you as they strike a healthy balance between back pain relief and support.
Firmness
Some people wish to sleep on a firm bed that is also a bit bouncy. They need a bed that bounces them up as they move and help them as they roll over. Some just enjoy the sensation of firmness. Innerspring Mattresses are an excellent choice for such sleepers.
Budget-Friendly
Innerspring Mattresses are widely available in great budget-friendly deals to choose from. The range of thicknesses and mattress toppers of Innerspring Mattresses that are available in options that offer to finance makes it a great budget-friendly choice in mattresses. Mancini's Sleepworld offers multiple financing options for its customers.
Customized support
Customized support options in innerspring offer multi-zone support, in which the springs are tempered differently, subjective to their location in the mattress. This means the amount of support can be customized to your sleep positions and how they impact your health in day-to-day life.
All of these springs additionally add up to better edge support. This feature makes it effortless for you to get in and out of bed quickly and allows you to sit on the edge of your mattress without falling off.
All said and done; numerous variants sometimes create chaos in choosing the best one that is ideal for you.
Best innerspring mattress at Mancini's Sleepworld's
Stearns and Foster Reserve Duet Medium Firm Queen Mattress 17"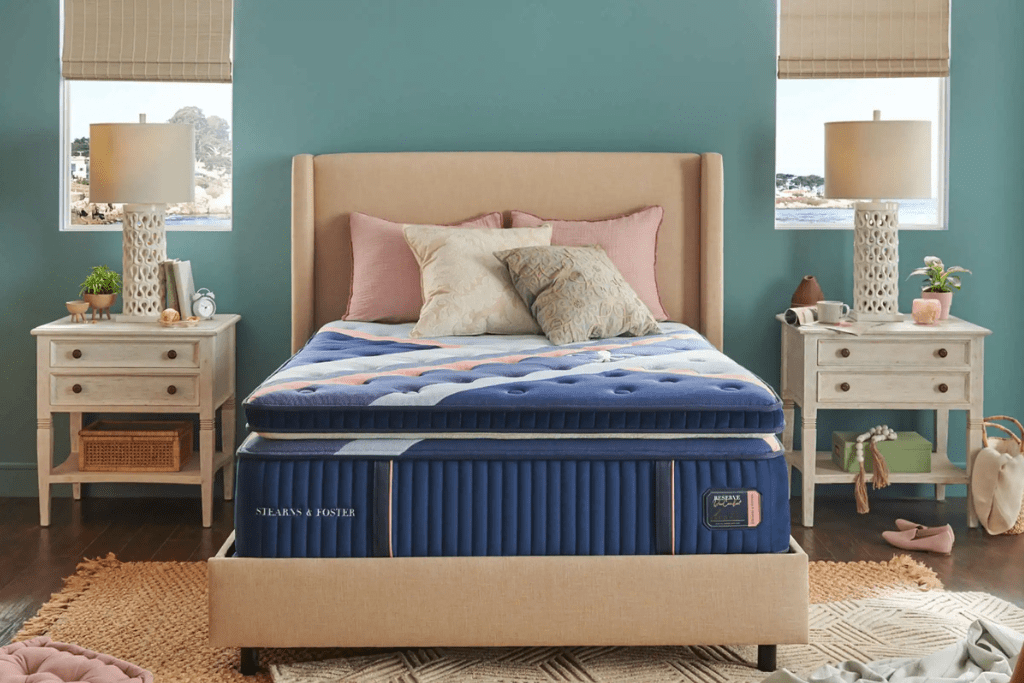 Reserve Duet by Stearns & Foster with removable, reversible luxury pillow top. Sleep comfortably in every season. Features our cool-to-the-touch cover on one side and an incredibly soft, breathable blend of Tencel and wool on the other, for a refreshing feel in the summer and a cozier option in the winter.
Beautyrest Black L-Class Plush Pillow Top Mattress 14.5"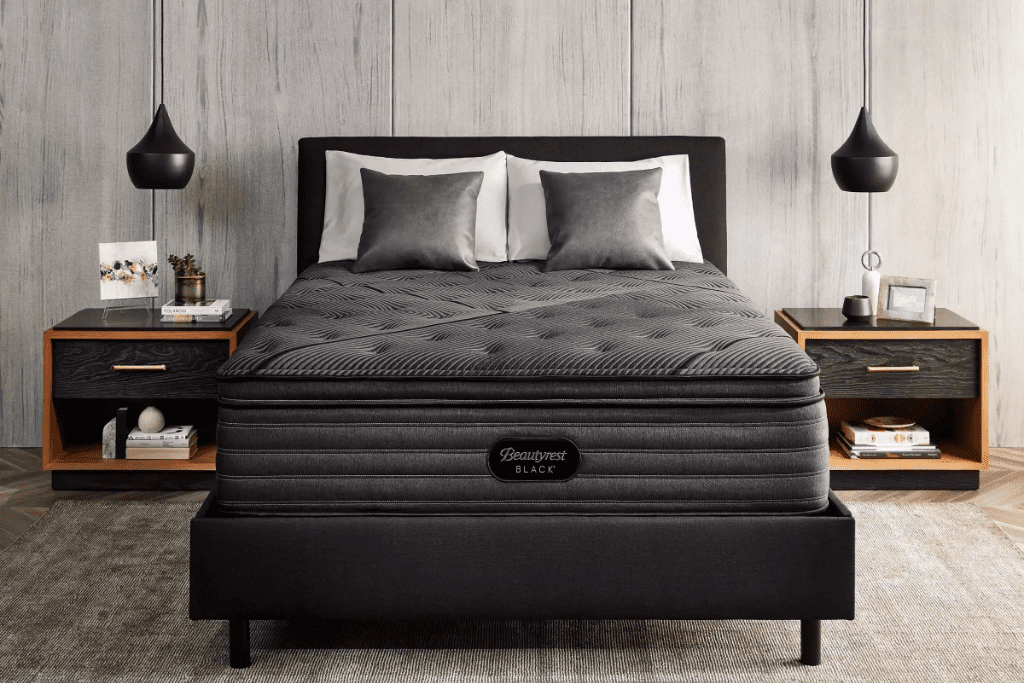 Elevate your sleep to a luxurious reward night after night. As a part of our most advanced collection yet, Beautyrest Black L-Class offers up to 21 percent more support where your body needs it the most. With help from our new plant-based cooling technology, the collection provides up to 18 percent more cooling power to keep you comfortable as you fall asleep and all night long. In addition, our patented memory foams unlock immediate pressure relief and personalized support. These innovative features are paired with an all-new modern design to create a first-class sleep experience that will leave you feeling invigorated to take on your day.
With volumes of information scattered over the internet, buyers often need help deciding between memory foam and innerspring mattresses.
Do you need help deciding between a Memory Foam and an Innerspring mattress too? Read our blog on Memory foam mattress vs Innerspring mattress right now to make an informed decision.
We strongly suggest you choose a mattress that suits your body type and sleeping position. Like Innerspring Mattress, but do you want to be surer about your choice? Check out guide on Innerspring mattresses – Pros & Cons
If you are still confused, step into your nearest Mancini's Sleepworld and chat with our sleep specialists. Check out the widest range of high-quality mattresses and pick the right one for your body type.