Buying a new mattress feels like an overwhelming task as many options are available in the market. While purchasing a mattress, if just the price drives you, you might be making a mistake. What looks comfortable to your budget might bring discomfort to your body after a few months, and you'll be back in the market looking for a new mattress. That doubles your investment, isn't it?
Investing in a good mattress guarantees you returns in the form of sound sleep that will rejuvenate your entire body. Sealy Posturepedic mattress is one of those products that give you a total value for your investment. Sealy has been in the market for around 140 years with a reputation for offering supportive mattresses. Posturepedic is the brand's key trademarked technology that claims to provide many benefits to sleepers.
What is "Posturepedic"?
The word Posturepedic is a combination of two words- Posture, which means the position of a person holding their body, and orthopedic- the perfect skeletal position, according to medical experts. Sealy Posturepedic mattress is known to be an effort to perfect the sleep system and the mattress for the human body. The idea behind Posturepedic mattresses is to develop a mattress based on the bodyweight distribution during sleep.
The union of orthopedics and mattress makers brings to life what happens to be one of the most advanced mattresses in terms of posture. Hence, the next time you head out to buy a mattress, keep the below-mentioned reasons in mind.
5 reasons why Sealy Posturepedic mattress is good for you
#1 Provides complete body support
Sealy Posturepedic mattresses are designed so that your body gets perfect support while sleeping. Posturepedic technology ensures that every part of the mattress offers the right support while sleeping, reducing aches and pain. With such technology, you can be rest assured that the mattress won't sag, squeak or crease for years to come.
As the surface of these mattresses is not too soft but firm and comfortable, it is the best for those looking for a mattress for back pain relief.
#2 Perfects your body temperature while sleeping
Sealy's patented Gel memory foam is regarded as the most advanced in the market and far better than its competitors. Your body temperature is regulated when asleep, and hence you remain fresh throughout the 8 hours of Zzz on the mattress. The temperature regulation is further possible because of the use of Stay True Fibers in most of their beds.
Plus, their mattresses are hypoallergenic, dry, and fresh- all of these qualities help promote better sleep at night.
#3 Minimizes motion transfer
Sealy mattresses are made with Posturepedic pocketed coils that function independently, reducing motion transfer while sleeping. If you are sharing the bed with a partner, both of you will sleep super comfortably with minimum motion transfer. You can switch your sleeping positions as you wish too, and your partner won't feel much movement and vice versa!
#4 Get the best support
Sealy Posturepedic mattress has a history of orthopedic research to ensure the best posture support to the body. Every Posturepedic mattress from Sealy has innerspring coils inside it for support. These coils are made of titanium alloy and are lightweight, but they offer the perfect deep support as per the suggestion of the orthopedic experts who developed the first Sealy Posturepedic mattress a long time ago.
The open coil technology, which is central to the support system that Posturepedic mattresses offer, has resulted from constant research and development from Sealy. The support system in a Posturepedic mattress works on the idea of motion transfer, where the mattress identifies your weight and offers the exact amount of support to it. Such qualities make for the best choice especially for those looking for mattresses for back pain relief.
#5 Unmatched comfort
A great mattress is one in which all the layers come together to enhance the overall sleeping experience. Sealy Posturepedic mattresses have got all the layers stacked precisely in the right place so that it helps to relieve pressure and reduce soreness. The comfort layer in a Posturepedic mattress is made from a mix of memory foam and gel-infused Visco, which allows you to sink into your mattress perfectly.
Now that you know the benefits of Sealy mattress, we present our top pick from the brand.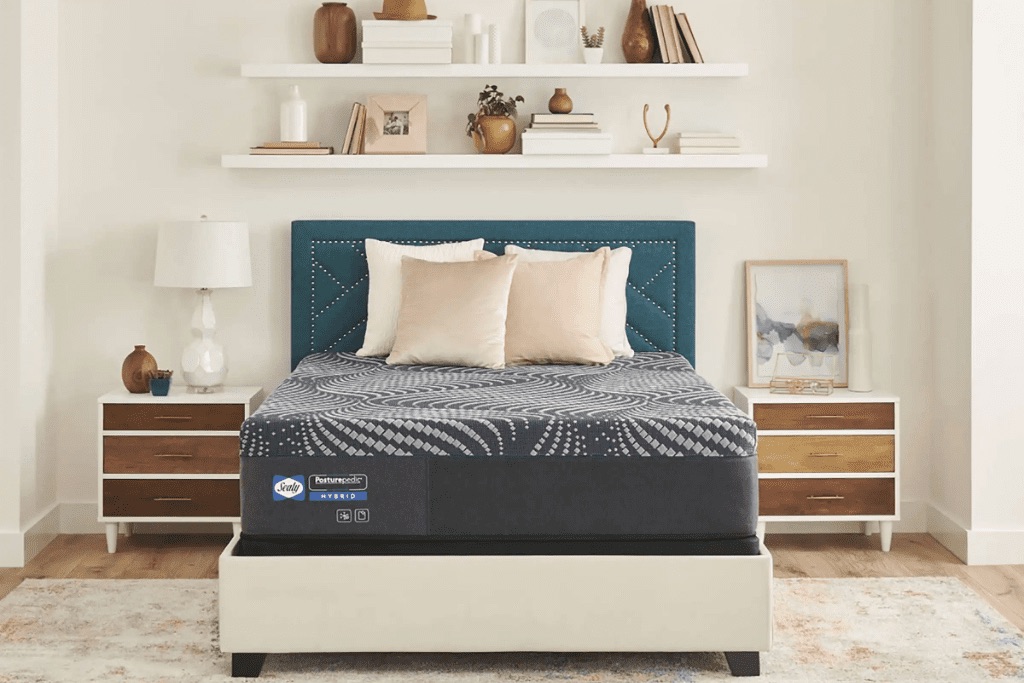 The PosturePedic Plus Brenham is a firm hybrid mattress from Sealy with surface and SealyChill Cover. The mattress is designed to offer your body the targeted comfort relief it deserves for a great sleep at night. You get the best edge support on this mattress as it hosts the DuraFlex Proedge system. There are numerous comfort layers on the mattress, including ComfortSense Premium Memory Foam and Sealysupport gel foam.
Key features
Suitable for adjustable base: Yes
Motion separation: Yes
Cooling technology: Yes
Edge Support: Yes
Sealy PosturePedic mattress is definitely meant for you if you look for sheer comfort and well-being in your posture. Mancini's Sleepworld has a wide variety of top PosturePedic mattresses from Sealy for you to choose from. Also, you can try the mattresses before you buy them at our store. If you are shopping online, check out our website!