A great mattress is one that offers the best sleep and refreshed mornings. Let's look at two of the most popular brands in the market, Sealy & Stearns & Foster.
Before we start, both brands are owned by Tempur Sealy Corporation. However, both mattresses perform very differently.
Let's look at the differences at a glance:
ParameterSealyStearns & FosterHistorySealy was founded in 1881 with headquarters in Trinity, North Carolina. Sealy is one of the largest manufacturers in the world.
Sealy mattresses offer exceptional support to the spinal cord and additional reinforcement on the edges.
Stearns & Foster was founded in 1846 with headquarters in Cincinnati.
All mattresses have a pillow top handcrafted and handsewn top layer followed by a patented coil system.
SegmentSealy caters to mid-segment although they offer a few premium options as well. Stearns & Foster caters to the luxury segment and has maintained a long-lasting, quality craftsmanship throughout the years.CollectionsSealy PosturePedic Foam: Treat yourselves to satisfying nights of sleep with maximized body contouring. The PosturePedic Foam mattress is designed in consultation with orthopedic specialists making this a mattress of top quality. The motion absorbing material, and a breathable antibacterial cover provides trusted support, so you get the comfort and support that's right for you.
Sealy PosturePedic Plus Hybrid: Combining the best -of-both-worlds' innerspring and memory foam, Sealy PosturePedic Plus Hybrid offers excellent comfort and support. While the coils adapt to every movement, specialty foams offer body conforming
Estate Series: Estate series mattresses feature IntelliCoil system. This patented coil system offers superior edge support and extends the life of the mattress.
Lux Estate Series: This series offers similar benefits of the Estate series but with advanced HD Indulge memory foam and HD IntelliCoil System for ultra-comfort and support.
Reserve Series: This is the most expensive series from Stearns & Foster offering firm, plush and pillowtop mattresses which give the customer a high-end eel with luxury memory foam and upholstered velvet exterior.
TechnologySealy mattresses use only durable, high-quality foams that enhance comfort. To ensure a cool night of sleep, Sealy includes SealyCushion Air Foam, SealyCool Gel Foam, SealyChill Gel Memory Foam, Sealy Comfort Sense Foam, and Sealy Immersion Advanced Memory Foam.
Sealy also makes Sealy Posturepedic hybrid mattresses for people who like the best of both worlds, innerspring and foams.
Stearns & Foster uses the finest innerspring created in 2009 by in-house spring experts. This unique, nested coil design, the only continuous coil-within-coil available on the market, is exclusive to Stearns & Foster.
This is patented to offer ultimate support in each mattress model.
The cone-shaped inner coil provides a larger range of responses, distributing necessary support to all sleepers. The more pressure or weight this coil receives, the more support it provides.
IntelliCoil® HD
IntelliCoil® Micro Layer
IntelliCoil® Micro Layer HD
There are many premium mattress brands on the market. However, Sealy and Stearns & Foster offer unique comfort with exclusive support technologies.
Stearns & Foster offers customizable firmness and luxurious pillow top options for the discerning sleeper. They also boast of IntelliCoil technology which offers superior responsiveness and cradling.
On the other hand, a Sealy PosturePedic Plus targets the most sensitive areas for targeted sleep. Designed according to orthopedic specialists, sleepers suffering from chronic back pain will benefit from this technology the most.
Firmness
Both brands offer mattresses with different firmness levels to cater to different sleep positions.
Types of sleep positions
All types of sleepers can find their fit in Stearns & Foster store; they make mattresses for all kinds of sleepers.
Sealy PosturePedic Plus models are primarily for side sleepers. Sealy Memory Foam mattresses are recommended for back sleepers.
Our recommendations
Our top recommendations for Sealy & Stearns & Foster
Sealy PosturePedic Plus High Point Firm Mattress 14"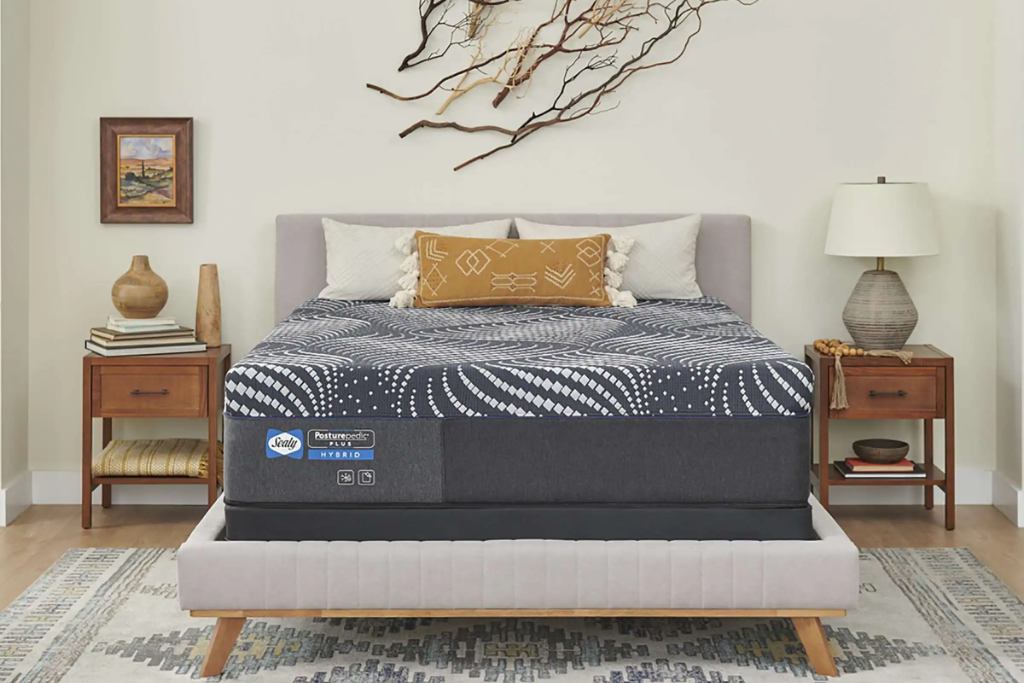 Sealy PosturePedic Plus Hybrid mattress offers twice the cooling of other Sealy model by featuring Sealy Chill Cover. It also hosts a whole lot of other features like a 1090 Response Pro Zoned HD Encased Coil System, DuraFlex Pro edge system and numerous comfort layers including layers of Comfort Sense Premium Memory Foam and Sealy support gel foam.
With the help of orthopedic specialists, Sealy has been providing mattresses that are designed to offer excellent support and targeted relief where you need it the most, i.e., the back and core.
Stearns and Foster Reserve Firm Pillow Top Mattress 17"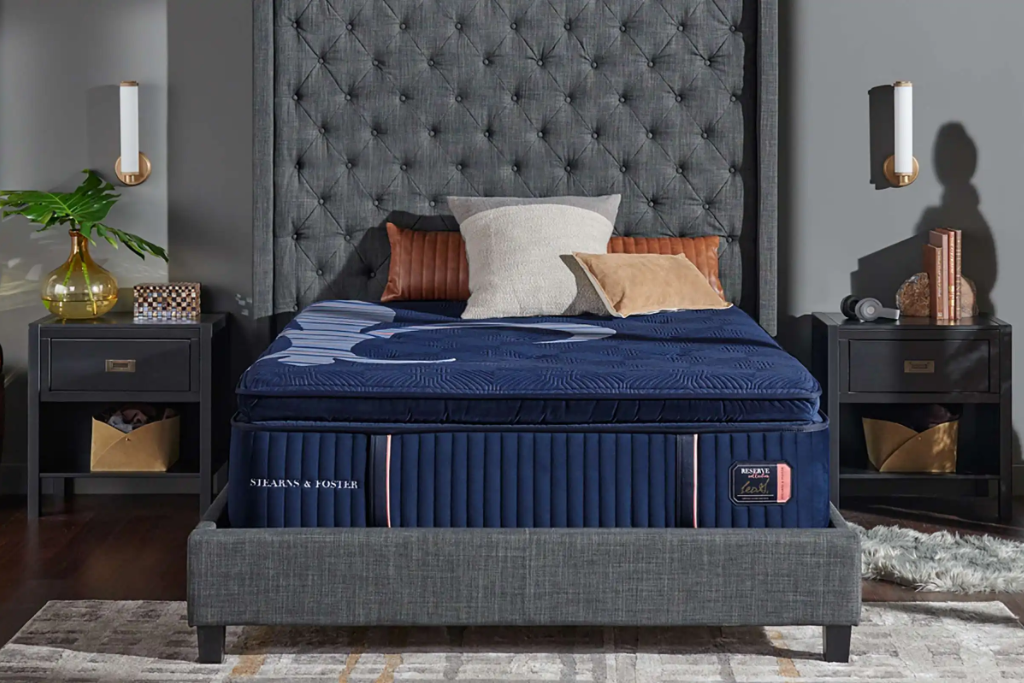 This firm pillow top Mattress from the Reserve Collection showcases the highest level of craftsmanship when it comes to design, quality and feel. With exceptional comfort of the indulge HD memory foam and supportive IntelliCoil Micro HD layer, the upholstered grade velvet exterior only enhances the look and feel the bedroom.
How to choose the right mattress
Don't spend too much time researching and getting confused, follow the below guidelines on how to choose the right mattress:
Make & Construction
Memory Foam mattresses are ideal if you are looking for the perfect body contouring properties and excellent pressure reliving properties. An innerspring on the other hand will offer you a more traditional feel in terms of firmness resulting in superior support and edge support. A hybrid mattress is a combination of innerspring and memory foam offering the best of both worlds.
Support
Try and test out mattresses before you buy them. You don't want be stuck with the wrong mattress for 7-10 years. Ensure you are getting enough support where you need it the most; this alleviates back and hip pain.
Generous Trial Periods
Bring home a mattress that offers generous sleep trial periods and easy returns. No one can decide the right mattress in 20 minutes of sleeping on a mattress in a store. In order to decide whether it is the right mattress or not, you should be able to test it over an extended period of time. Find a brand that offers a risk-free trial period.
If you are still confused, step in to your nearest Mancini's Sleepworld and find the perfect mattress for your body type.