Sealy Posturepedic Mattress has been known for luxury and innovation in the mattress world since its invention. A typical Sealy mattress combines both traditional comfort and innovative technologies to deliver unparalleled support to the core and back throughout the night. This combination reduces the chance of malignant back pains.
Sealy Mattresses are highly available in the market and are ideal for people who need targeted support and maximum pressure relief during sleep. This product makes the experience of sleep go a notch higher.
A Sealy mattress's memory foam and body conforming features take the sleeper's body shape to offer an undisturbed night of sleep.
In this blog, let's discuss the top reasons why you should buy a Sealy Mattress.
Enhanced comfort
What you sleep on affects how well you sleep.
It is a well-known fact that sleep is an essential part of a person's overall health. Experts agree that one can improve one's sleep by choosing ideal sleep surfaces. Sealy Mattresses merge coils with layers of foam and other comforting materials, enabling them to provide comfort every day over a long period of time.
Sealy mattresses are engineered to support your body by allowing it to be in the natural sleeping position. This provides maximum comfort to the users, leaving them ready to take on the day when they wake up.
Conformity
Wrong sleep positions on the wrong mattresses lay a lot of pressure on the sleeper's muscles and joints.
Sealy mattresses body conforming feature ensures the mattress is adjusting itself to the shape of the sleeper's body, giving it the most required comfort during and after sleep. This feature also provides support to optimize your spine alignment while reducing motion transfer and alleviating pressure point discomfort.
Extra-sturdy support to your back and core
Back pain is now a common scene that is responsible for sleep deprivation in many people. Indeed, wrong neck and body positioning also affected many of them during sleep. This happens due to the discomfort caused by choosing the wrong type of mattress.
Wondering which mattress best supports the neck, back, and body posture while sleeping?
The right mattress is the answer!!
Sealy mattresses with extra-sturdy support are ideal for people with back pain as they provide sturdy support to the back and core while sleeping.
Cooling technology to dissipate body heat
Studies suggest that a person's body temperature changes during different sleep phases. While higher temperatures cause sweating and hot flashes to interrupt sleep, lower body temperatures promote sleep quality.
Regular mattresses retain your natural body heat at the surface. On the contrary, a cooling mattress curates the temperature where your body makes contact. The cooling technology in a cooling mattress carries wicks away your excess body heat.
Sealy Mattresses help sleepers who run hot in bed to dissipate their body heat and get a night of better and longer sleep with the cooling technology embedded within them.
Did the above information help you get a fair idea about the benefits of owning a Sealy mattress?
Well, here are some recommendations for you
Mancini's best Sealy Mattress recommendations for 2023
Sealy PosturePedic Plus High Point Firm Mattress 14"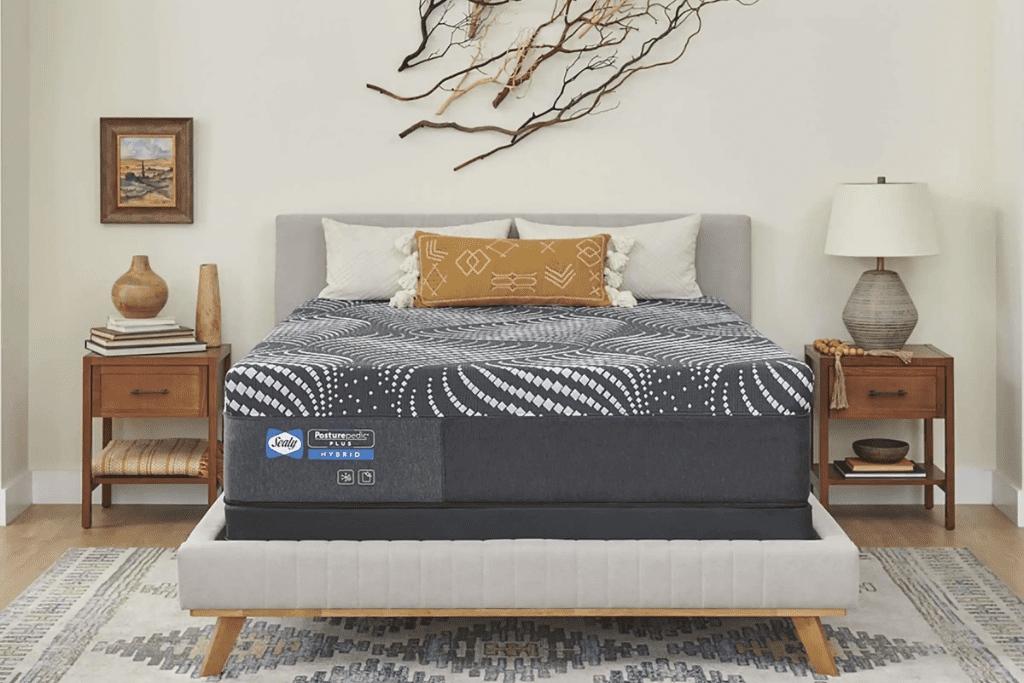 This Firm Sealy Hybrid Mattress comes with twice the cooling of other models. You can treat yourself to a good night's sleep with this mattress as it provides targeted relief to your back and core.
The differentiating features include a 1090 Response Pro Zoned HD Encased Coil System, Surface Guard, Sealy Chill Cover, DuraFlex Pro edge system, and several comfort layers, including layers of Comfort Sense Premium Memory Foam and Sealy support gel foam. In fact, Sealy PosturePedic Plus High Point Firm Mattress 14" is designed to support your entire body while sleeping.
Sealy PosturePedic Plus High Point Soft Mattress 14"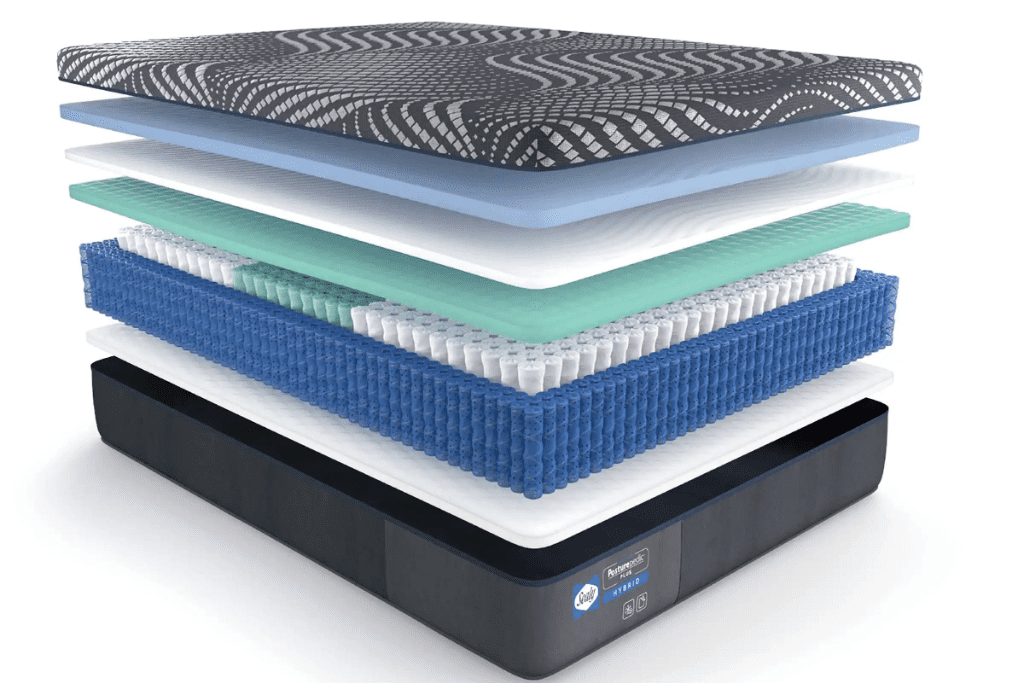 Sealy PosturePedic Plus High Point Soft Mattress 14" is among the most premium mattresses that offer targeted support to the user's body through the several comfort layers of its design. This Soft Hybrid mattress with twice the cooling of our other models' high-quality cooling technology, and pressure-relieving memory foam helps you lead a healthier balanced life with a good night's sleep.
This hybrid mattress features a DuraFlex Pro edge system designed in numerous comfort layers, comprising layers of Comfort Sense Premium Memory Foam Sealy support gel foam. These features balance a fine line between support and firmness for the users.
Sealy PosturePedic Plus Foam Highpoint Ultra Soft Mattress 14"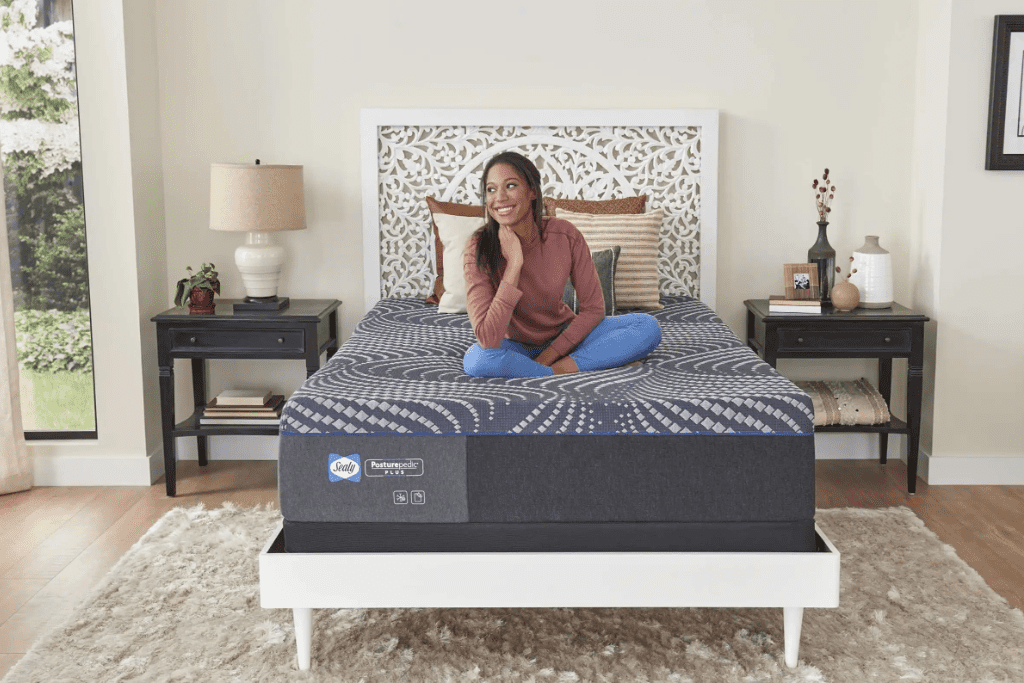 A good night's sleep is essential to improve your memory, creativity, learning, and decision-making. You have to sleep well if you want to be at your best. If you suffer from joint and muscle aches and need a cushy sleeping surface, an ultra-soft all-foam mattress can give you that exceptional cushion. This mattress suits all sleeping positions by absorbing movement and molding to the body in response to heat and pressure.
Sealy PosturePedic Plus Ultra Soft all-foam mattress provides you with the ultimate luxury of a sound sleep with its best Sealy materials and expert design. The cool-to-the-touch cover technology and the exceptional body-conforming foams help you dissipate your body heat during sleep and wake up rejuvenated and ready for the day ahead.
Sealy PosturePedic Plus Brenham Firm Mattress 13.5"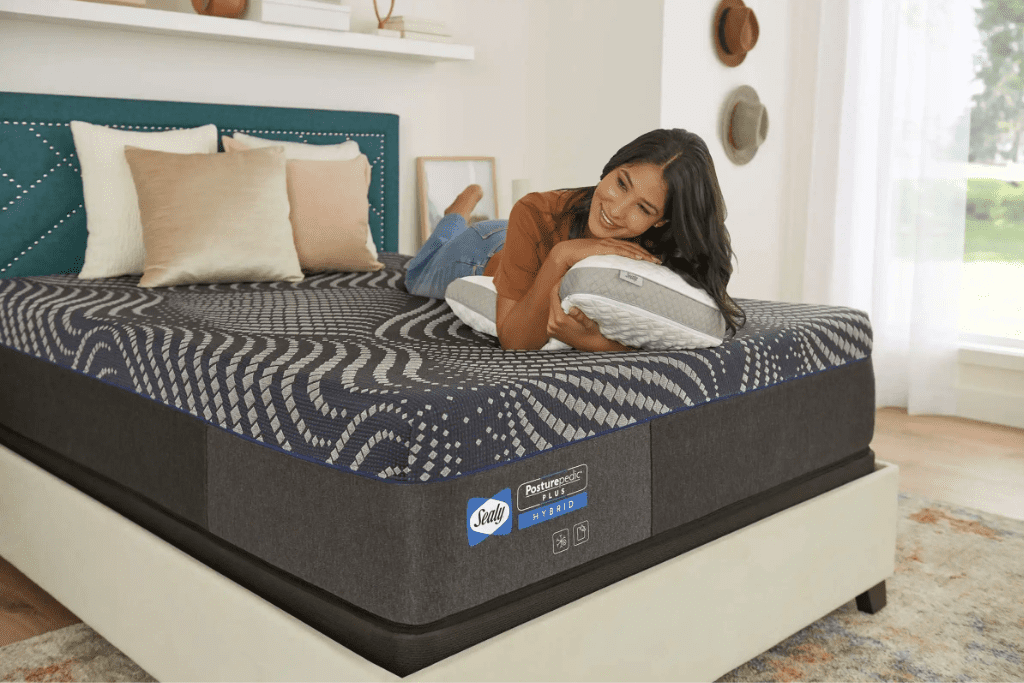 The benefits of having a strong back and core range from injury prevention to balance stability and improved lifting mechanics to overall healthy life. To keep your core and back healthy, your spine needs support to take pressure off your lower back while sleeping.
Sealy PosturePedic Plus Brenham Firm Mattress 13.5" is specifically designed to keep the sleeper's firm on the surface while providing targeted relief to the back and core. This Sealy Hybrid Mattress features Surface Guard and Sealy Chill Cover plus a 1090 Response Pro Zoned HD Encased Coil System to ensure sturdity and comfort simultaneously.
Firm mattresses are engineered to be strong and to refrain people from sinking into the mattress. the firmness also means that your mattress will be durable for years to come!
The above-mentioned are just a few trending technologies in Sealy mattresses. While there seem to be too many options, finding an ideal mattress for you is a quintessential task to ensure restorative sleep.
How to find your ideal mattress
When sleep seems to escape you, night after night, leaving you highly fatigued, it's high time you re-think your mattress.
Find the one that suits your needs. You might have constantly wondered about choosing the best mattress that is ideal for you. Nevertheless, when it comes to mattresses, there is no one shoe fits all. What comforts one person may not comfort the other. The ideal mattress choice depends on the user's age, body type, posture, and health conditions and other parameters.
But this is not a cause of worry as our SleepMatch technology helps identify your ideal mattress by scanning your body and taking thousands of data points for match accuracy.
Shop from an extensive range of high-quality mattresses and sleep accessories at Mancini's Sleepworld. If back pain is your concern, you can shop from the Sealy Mattress sale either online or from your nearest Mancini's Sleepworld store. Our sleep specialists will be excited to guide you through our wide selection.