Do you often suffer from sneezing preventing you from snoozing while in bed? Itchy eyes and runny nose are symptoms of allergies.
Allergies can disrupt healthy sleep and leave you suffering all day. Generally, allergies are caused by dust mites and other allergens present all around us in the air. Your mattress can be a breeding spot for a million dust mites invisible to your eyes. If you have allergies, it is time to consider allergy proof bedding and take a step towards a healthy sleep environment.
You spend 33.33% of your day in bed, and your mattress can contain innumerable invisible dust mites and fungal spores. Every moment you spend in bed could be causing you increased misery. Such allergies can lead to asthma or eczema in the long run.
One simple way to reduce allergens is to wash your bedding regularly, but it doesn't permanently solve the issue. That is why anti-allergy bedding sets have successfully made it to the market.
What is allergy-proof bedding?
Allergy-proof bedding can prevent dust mites from accumulating on your mattress and will reduce the growth of mold spores and keep pet dander away. Dust mites are sized between 0.25-0.3 millimetres, and they feed on dead skin cells which are found in large numbers on the bed. The warm, humid temperature of the bed makes it the perfect spot for them to live. Some estimates suggests that there can be around 10 million such mites on an average bed.
Anti-allergy bedding uses an anti-dust mite coating which helps to keep away the mites. Also, in the case of anti-allergic pillows or duvets, they are woven tightly so that mites cannot break in. Anti-allergy bedding can ensure that other organic deposits on your bed and mattress are substantially reduced!
Anti-allergy, Non-allergenic, and hypo-allergenic- What's the deal?
While all the above mentioned are targeted toward users looking for anti-allergy bedding, it might get a bit confusing. Here's a brief and easy explanation to clear the confusion-
Anti-Allergy: These are the products that contain ingredients that help reduce allergic reactions and, at the same time, reduces the presence of dust mites.
Non-allergenic: These products ensure that they won't cause any allergic reaction, but there might be the presence of dust mites and other allergy triggers.
Hypo-allergenic: With such products, the chances of allergic reaction are less. They are generally made from breathable materials such as natural cotton. More breathability ensures less dampness and removes the possibility of a favourable breeding ground for the dust mites.
Super easy ways to get rid of dust mites from your bedroom
No one wants unwanted guests in the bedroom! Especially if they are harmful to your health and living in your bed. There are some easy steps you can take to get rid of dust mites:
Make sure you regularly wash all the soft toys and cushions on the bed.
Vacuum your mattress and carpets regularly. Remove carpets from the bedroom as the mites cannot survive hard floor surfaces.
Air out your mattress every week so that the moisture is off the surface and it's dry before you put back the bedding
In high pollen seasons, make sure that you keep your windows closed as it will stop dust from entering. Or you can also fit an air purifier to get rid of the unwanted pollen.
Ensure that the humidity count of your bedroom is consistently below 50%, as higher humidity will increase the chances of mite growth.
Apart from these practices, it is essential to pair your mattress with great dust mite proof bedding. Some of our top recommendations for you are:
Protect A Bed- Allerzip Smooth fits 11'' to 18''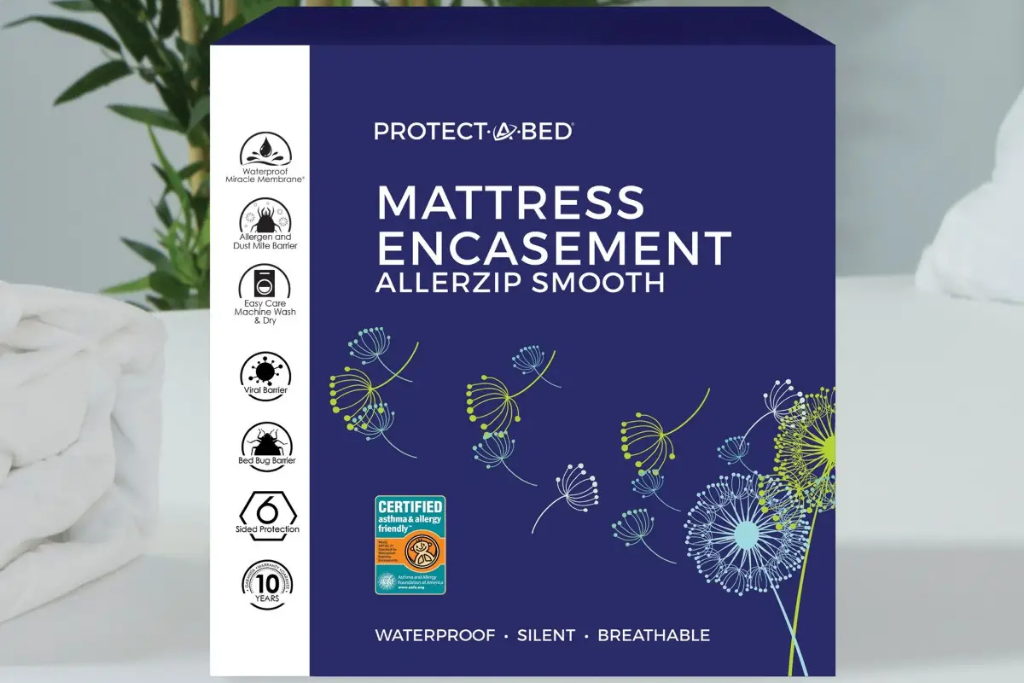 Allerzip Smooth by Protect A Bed is one of the most loved anti-allergy mattress protector. It is certified as asthma and allergy friendly by the Asthma and Allergy Foundation of America. This is a waterproof mattress protector from all sides and an encasement cover with high breathability. Plus, it is certified as a Class 1 medical device by the FDA. Pairing this up with your mattress will help to increase the lifespan of your mattress and, at the same time, keep you away from allergies.
Protect A Bed- Allerzip Pillow Protector (2pk)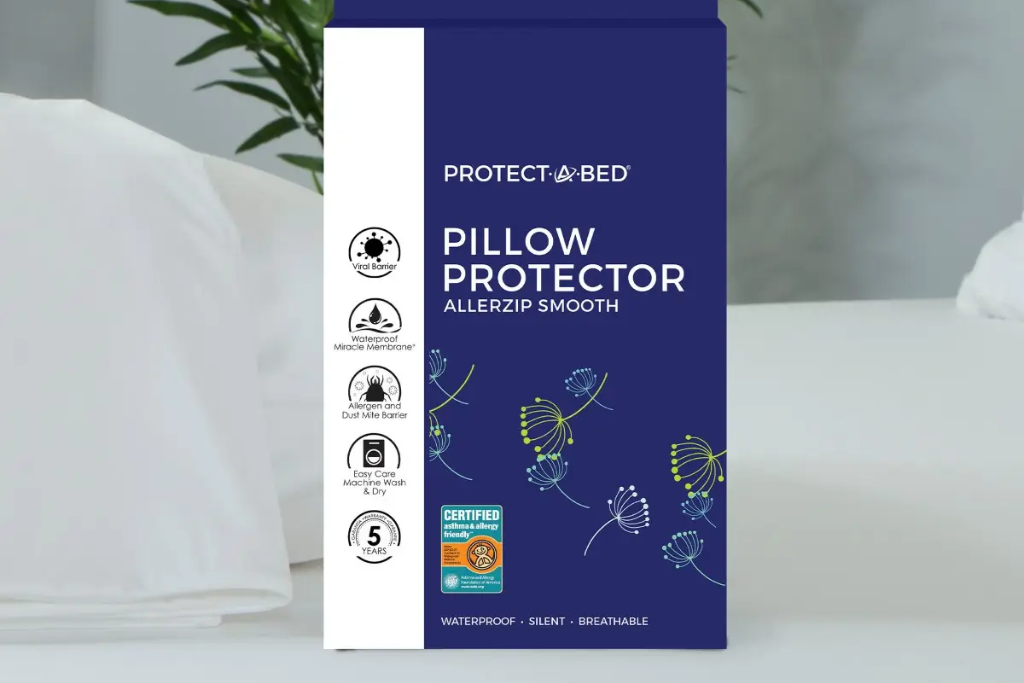 Allerzip Pillow Protector is one of the most important parts of an anti-allergy bedding set. Every night the human body loses a lot of dead skin cells and body fluid which the pillow and mattress absorb. With such a pillow protector, you can keep them away and ensure that there are no unwanted Allergan or mites on the bed. It is also bed bug bite proof, which will always keep it in perfect shape.
Take steps toward better sleep hygiene to improve your overall sleep health. Anti-allergy bedding is important to prevent allergies and breathing issues.
Visit your nearest Mancini's Sleepworld and choose from a wide variety of dust mite-proof bedding!