If you are looking for great sleep, get a great mattress. Choosing the right mattress for your body type is like choosing a good night's sleep. When you spend a third of your life on a great mattress, getting good quality restful sleep follows naturally.
Now, getting that perfect mattress can be a daunting task because of the variety of mattresses available on the market. Not just the type but also to get the firmness right, making it the biggest decision when it comes to mattress buying.
The choice regarding firmness boils down to personal preference. However, if you are stuck, you can go through our guide, which might help you make an informed decision.
What makes a perfect mattress?
Before jumping into the types and firmness, let's understand what makes a perfect mattress. A perfect mattress offers you great and comfortable sleep night after night. Trying out mattresses before buying them is highly recommended if you are unsure of which one to buy.
Understanding spinal alignment and appropriate support are of utmost importance while choosing the right mattress.
A perfect mattress will support your spine in a neutral position.
A perfect mattress should feel no pressure on any part of your body, like floating in the air.
A perfect mattress should relax the muscles and enhance your sleep pattern.
An incorrect mattress will cause you pains, aches, tosses, and turns, interfering with your sleep cycle.
Difference between the soft and firm mattress
The difference between a soft and firm mattress is noticeable in the feel of the mattress. A soft mattress is plusher and compresses easily when pressure is applied. At the same time, a firm mattress is more inflexible to the touch and does not easily compress when pressure is applied.
It is important to note that the firmness spectrum is not divided into just soft and firm, the scale is broader, and the consumer has many options regarding firmness levels.
Who should use a firm mattress
Stomach sleepers: Firm mattresses are best suited for stomach sleepers. A firm mattress supports the stomach region and prevents the torso from sinking, resulting in proper spine alignment. If the mattress is too soft, the spinal curve can become exaggerated, leading to chronic neck and back pain.
Back sleepers: When sleeping on the back, hips and buttocks tend to sink if the mattress is too soft, resulting in a misaligned spine. Back sleepers usually like firm mattresses that align their hips with the shoulders and head. When the body is properly aligned, you can completely relax and rejuvenate.
Heavy sleepers: Heavy-weight sleepers (over 230 pounds) may choose a firmer mattress for overall support, as a soft mattress might allow more sinkage and less support. If a mattress is too soft, the sleeper might feel stuck in the mattress, also tricky to change positions during the night. This restricted movement can lead to poor circulation. A firm mattress helps the sleeper sleep "on the bed," allowing the lungs to expand and blood to circulate smoothly.
Best Firm mattress at Mancini's Sleepworld
Kingsdown Vintage Willow Oaks Luxury Firm Mattress 15"
As each day draws to a close, a sanctuary of luxury, elegance and quintessential comfort awaits that can only be experienced sleeping on a Kingsdown Hand Tufted Vintage Willow Oaks Mattress. Exquisitely handcrafted with the finest materials for astounding comfort and superior quality. State-of-the-art fabrics featuring Antimicrobial and Cooling technology promote a cool, healthy sleep, while natural materials like Joma Wool, Alpaca, Horse Hair, and Latex reduce pressure points. Rest assured knowing every inch of your body is supported by an individually wrapped coil system with Motion Separation Technology, ensuring your body is supported and your sleep is uninterrupted. All Kingsdown Vintage Tufted Mattresses feature Hand-Tufting. This process pre-compresses the mattress to ensure it feels the same each and every sleep. Kingsdown's Vintage Tufted Collection is ultimate choice in luxurious sleep.
Stearns and Foster Reserve Firm Pillow Top Mattress 17"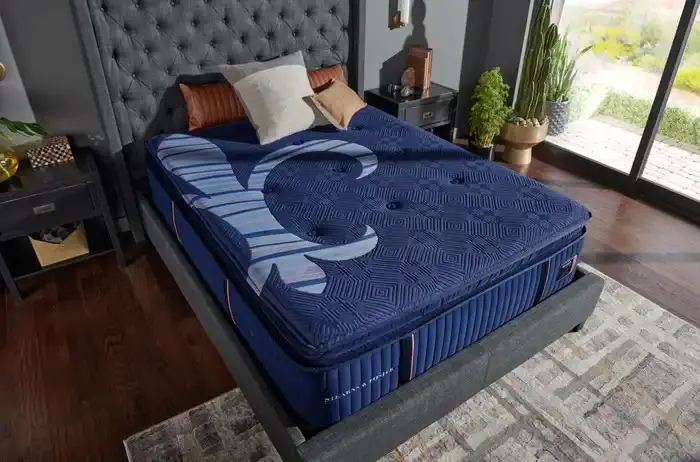 This firm euro pillow top Stearns & Foster from the Reserve collection is the highest expression of quality and the most comfortable mattress we have ever made. Meticulously designed with the finest materials to deliver one-of-a-kind comfort from an enhanced hand tufted cool-to-the-touch cover, beautiful velvet borders and layers of pressure relieving support from Tempur Indulge memory foam durable latex plus our highest counts of supportive IntelliCoilHD innerspring. The collection delivers a sleep experience unlike anything else.
Beautyrest Black K-Class Firm Pillow Top Mattress 15.75"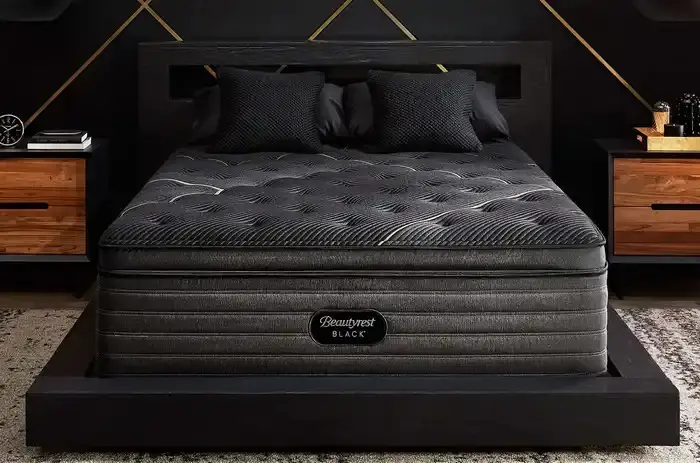 Elevate your sleep to a luxurious reward night after night. As the premier offering in our most advanced collection yet, Beautyrest Black K-Class now offers up to 21 percent more support where your body needs it the most. With help from our new plant-based cooling technology, the collection provides up to 18 percent more cooling power to keep you comfortable as you fall asleep and all night long. In addition to our support and cooling systems, Beautyrest Black K-Class includes comfort, pressure-relieving and support upgrades as well as 10X more memory foam, compared to Beautyrest Black L-Class and C-Class models for our most comfortable mattress ever. A luxurious layer made with silk, alpaca and cashmere provides unmatched comfort and breathability while Self-Response Latex ensures individualized support for different parts of your body. Lastly, 2000 micro-coils add an additional layer to our Premier Support System and provide precise conformability.
Tempur-Pedic TEMPUR-LuxeAdapt Firm Mattress 13"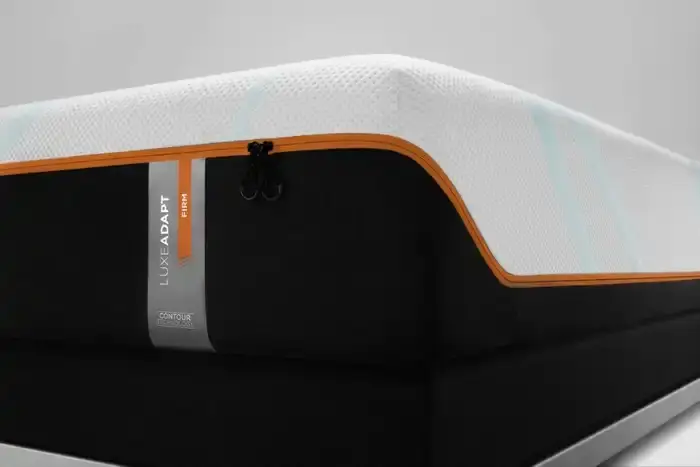 The TEMPUR-LuxeAdapt is the ultimate TEMPUR experience. Maximum pressure-relieving power. Superior motion cancellation. One-of-a-kind cooling technology. All combined with groundbreaking new material which intuitively adapts to your unique body in ultra-conforming comfort. Fall asleep faster. Stay asleep longer. And experience total relaxation from the moment you lie down to the moment you rise.
Casper Wave Hybrid Snow Medium Mattress 13"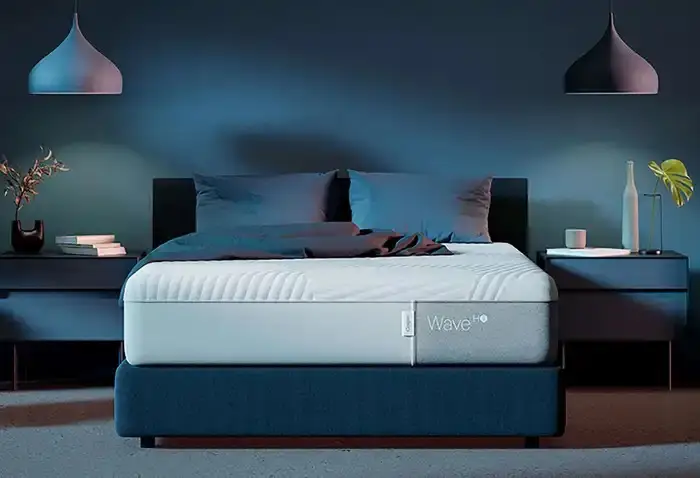 All Casper's foams are certified by the CertiPUR-US program. They are made without ozone-depleting chemicals and are regulated by the Consumer Product Safety Commission Low VOC (Volatile Organic Compound) emissions for indoor air quality (less than 0.5 parts per million). Top layer of breathable polyurethane foam. Second layer of zoned memory foam. Durable base of polyurethane foam.
Even though comfort is subjective and personal, firm mattresses are usually preferred by a set category of sleepers. Firm mattresses are a great fit for back and stomach sleepers. Firm mattresses are found in innerspring, memory foam, and hybrid variants.
Now that you know everything about firm mattresses, what are you waiting for? Step into your nearest Mancini's Sleepworld and pick one today.