Nothing can replace a good night's sleep. To get good sleep, pillows play a crucial role. The right pillow can help your spinal health, maintain your sleep posture, and give you comfort.
Before listing down the top luxury bed pillows, let's understand everything about luxury bed pillows.
What are luxury bed pillows?
Luxury bed pillows are expensive variants of normal pillows. They are made of high-quality materials that enhance the pillow's comfort, support, and durability.
The cover is also made of high-quality fabric such as cotton, rayon, or linen. The cover weaving is strong and helps hold the fill from coming out. Luxury bed pillows are also known for maintaining their shape and support for a long time. This means your yearly quest for a new pillow ends here!
The seams of such pillows may have extra embellishments or gusset panels to help retain the shape of the pillow.
Things to check while buying luxury bed pillows
When you are choosing luxury bed pillows, here are some of the key points you would like to keep in mind-
Materials
For luxury pillows, the materials used are the foremost thing to be noted. Both natural or synthetic materials can be used to make these pillows but what a buyer should check is-
Quality of their supply chain
Certifications regarding quality
Certifications for environmental sustainability Ethical treatment in the production process
Customer service
Every trustworthy manufacturer will have evidence to support their claims regarding the production process or quality.
Support
Pillows are meant to support your neck and reduce pressure on your shoulders. Luxury pillows offer consistent support and an even surface to rest your head at night. The support is determined by the construction and fill of the pillow. Some luxury pillows have gusset panels and interior chambers, which ensure added support.
Firmness Level
There are three firmness levels for pillows- soft, medium, and firm. You can select the firmness level based on how much you want your head to dip in the cushion.
A thick, firm pillow that keeps the head up is best suited for side sleepers. A medium firm pillow is suggested for back sleepers. Soft pillows are for people who prefer sleeping on their stomach, as they allow the head and neck to remain comfortable.
Temperature control
One essential quality of a luxury pillow is that it should be moisture-wicking and breathable. Such pillows should be able to keep you cool throughout the night.
Now that you know all about luxury pillows, here are the 3 luxury bed pillows from Mancini's Sleepworld for you-
Purple Original Pillow with Booster Standard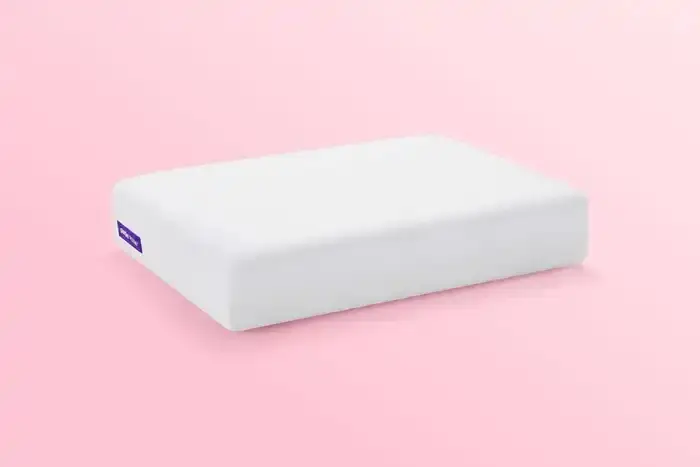 The ergonomic support of this Purple Original Pillow, due to its use of a 100% Purple Grid, makes it the most unique in the category. Another significant benefit is that you can personalize the height of your pillow for the custom support you need.
This pillow is best-suited for back sleepers as they will get the perfect support for comfortable sleep. For hot sleepers, this pillow does a fantastic job of regulating temperature. The GelFlex Grid is highly breathable and ensures that heat is not trapped within the pillow. The grid format of the hyper-elastic polymer is the key reason airflow is constant!
Tempur-Pedic Breeze ProHi Medium
Made from a single piece of TEMPUR technology, the Breeze ProHi Medium pillow is one of the top-selling luxury bed pillows. The TEMPUR-breeze technology is expertly crafted in this pillow to keep you cool and offer the perfect support. All of this leads to a refreshing sleep for you!
This Tempurpedic pillow has a removable & washable SmartClimate Cover made up of breathable and high-stretch performance fabric. It ensures better airflow and a cool-to-touch experience all night long.
Amidst other Tempurpedic pillows, this one stands out due to its high demand and excellent quality. It weighs around 6.6 lbs and has a 5-year limited warranty! It has a premium 500-thread count cooling cover and cooling gel sheets on both sides!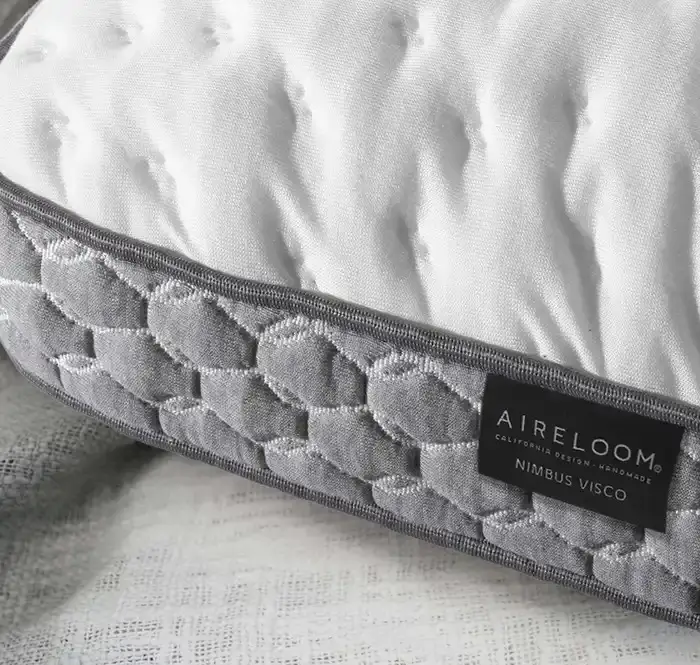 Aireloom Nimbus Visco Pillow is another high-quality luxury bed pillow available at Mancini's Sleepworld. This pillow offers a luxurious feel along with excellent pressure relief. The pillow is made up of hypoallergenic Talalay latex, which contours your neck for superior comfort and support. It is anti-microbial and biodegradable, which justifies its claim to be on this list of top luxury bed pillows.
The pillow is covered by TENCEL New Age fabric that is smooth and regulates temperature brilliantly. With Aireloom, you can rest assured that the pillow will hold its shape for years to come and keep giving you the same comfort.
The pillow weighs around 1 lb and has a 3-year limited warranty.
Mancini's Sleepworld- The best place for sleep shopping
At Mancini's Sleepworld, you get a wide variety of luxury and high-quality products for your sleep. Right from the mattress, furniture, and beds to pillows or mattress protectors, you get it all in one place. You can also get great last minute mattress deals at Mancini's Sleepworld when you shop.
Visit your nearest store or start shopping online today!