Stearns & Foster has been in the mattress business since 1846. They are known for making high-quality hand-crafted designer mattresses. Certified craftsmen make every mattress by hand at a luxury cell which is dedicated to the model they work with. The craftsmen take time with every layer they are working on. This ensures the uniqueness of the mattress and, at the same time, top-level comfort.
Stearns & Foster mattresses go beyond any other mattress in the market when it comes to design and overall quality.
Why you should choose Stearns & Foster mattresses?
Stearns & Foster mattresses perfectly blend top-notch design and excellent comfort. The hard work of experienced artisans is visible in every stitch of the mattress. Below are some of the best reasons why you can choose a Stearns & Foster mattress for yourself-
High-quality materials
With Stearns & Foster, you can stay assured regarding the quality of the material they use for the mattresses. Each mattress is made from high-quality and high-density materials. High-grade upholstery memory foam and latex foams are used, which ensure great sleep and excellent support.
The latex foam variants are hypoallergenic and bacteria resistant. For every kind of sleeper, these mattresses offer customized comfort, which is unparalleled in the market.
Support coils
The use of innovative titanium alloy coils in Stearns & Foster mattresses ensures greater comfort and support for the back. These coils are individually crafted for only Stearns & Foster mattresses.
Excellent detailing and design
The USP of a Stearns & Foster mattress is its craftsmanship. Every stitch and corner of the mattress is designed with extreme attention to detail. The mattress's luxurious feel and elegant design make your bedroom look classy. Even without any bedsheet or mattress protector, the mattress looks so royal that you will love to let it be in your sleep sanctuary!
Here are some more benefits of owning a Stearns & Foster mattress-
The brand offers a 10-year warranty on mattresses. They will repair or replace your mattress without any questions in case of any defect!
Stearns & Foster is an excellent choice for light sleepers. It is because the mattress can minimize motion transfer. If you or your partner tosses and turns throughout the night, such motion transfer ability will minimize movement! It will help you sleep peacefully every night.
Now that you know all about Stearns & Foster mattresses, here are the top recommendations from Mancini's Sleepworld-
Stearns and Foster Reserve Firm Pillow Top Mattress 17"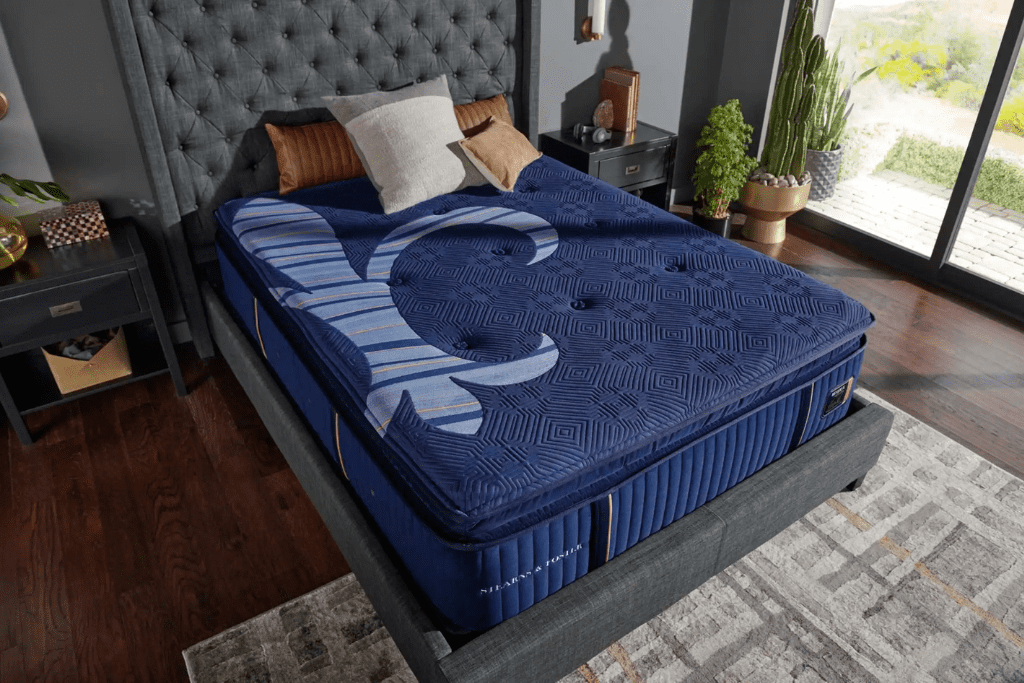 With the firm euro pillow top Stearns & Foster, you are assured of getting the best from the brand. This mattress is from the Reserve collection, and they vouch for it as the most comfortable and high-quality mattress they have ever made till now. The hand-crafted cool-to-touch cover, along with the velvet border and layers, make it look exquisite in your bedroom.
The addition of pressure-relieving Tempur Indulge memory foam and IntelliCoil HD ensures immense support and comfort. This particular mattress and the entire Reserve collection of mattresses are meant to give a sleep experience like never before!
Stearns and Foster Lux Estate Hybrid Medium Firm Mattress 14"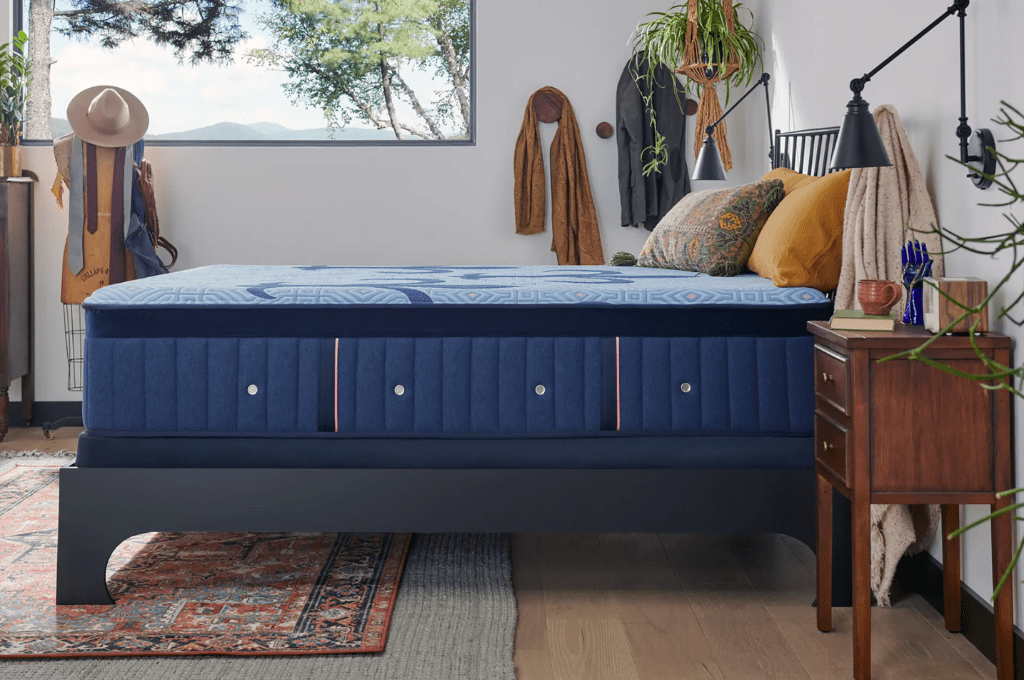 The Lux Estate Hybrid collection is meant to bring a new era of sleep to you! The exclusive Hybrid system, which is patent to Stearns & Foster, is coupled with signature memory foam. The mattress has hundreds of individual supportive and flexible pockets, ensuring excellent body support. Plus, the breathable air channels keep the mattress cool all night long.
This mattress is also suitable for an adjustable base and offers excellent motion isolation for a peaceful night of sleep. The superb edge support ensures you can use the entire sleep surface without the fear of falling off!
Stearns and Foster Estate Ultra Firm Mattress 13.5"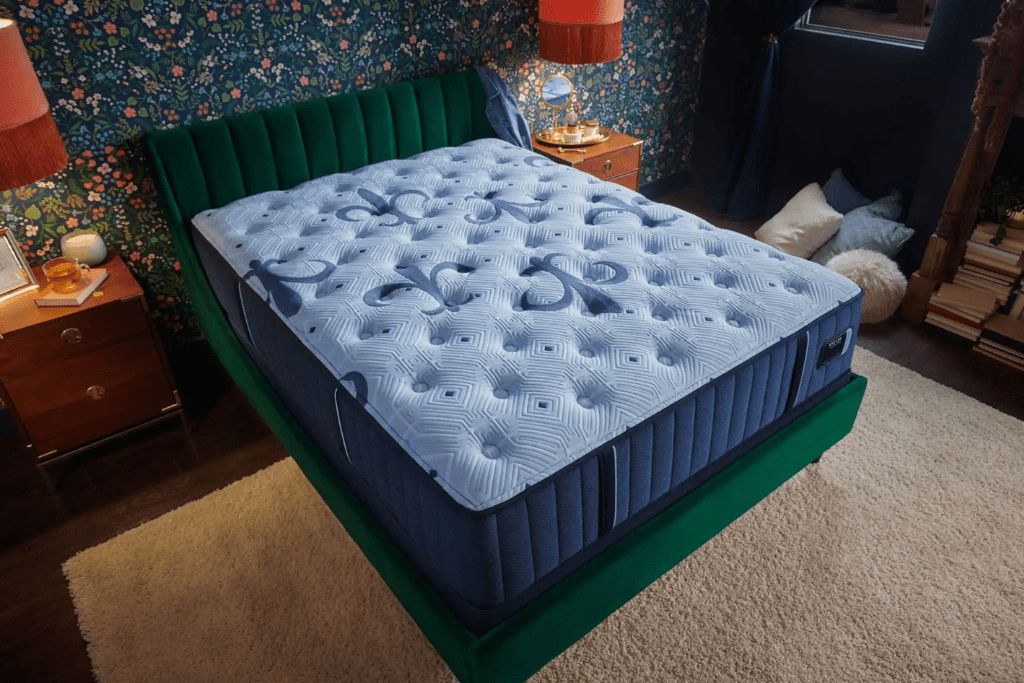 If you are looking for an extra firm mattress, this is the perfect pick for you. The Estate line of mattresses from the brand is exceptional when it comes to offering comfort and support. The TEMPUR-Indulge Memory foam provides enhanced pressure relief when combined with IntelliCoil innerspring from Stearns & Foster.
This mattress is suitable for an adjustable base and offers excellent edge support. Plus, you get a motion isolation feature too!
Mancini's Sleepworld is the perfect place for mattress shopping. You can get great last minute mattress deals on a wide variety of mattresses. High-quality bedding and other furniture are also available at the store. If you don't feel like visiting the store, you can enjoy the convenience of online shopping right from your home!
Happy sleep shopping!