Often, we find consumers like you asking the question- "How long do Tempur-Pedic mattresses last?"
Tempur-Pedic mattresses are often considered luxury mattresses but they're actually affordable and provide incredible comfort. Tempur-Pedic is routinely rated as the number one most comfortable mattress makers. But how long do they last?
If currently own a Tempur-Pedic mattress, you might be wondering this question too!
Whichever mattress you have, it should be kept in top form for the best sleep experience. One key to keeping your mattress running longer is by cleaning your Tempur-Pedic mattress regularly.
While the answer to the question - How long do memory foam mattresses last? Is about 8-10 years, Tempur-Pedic use high quality materials to provide a better sleep experience.
Tempur-Pedic- Long-lasting mattresses
When a brand offers a 10-year full replacement warranty on their product, it means the product should perform above average throughout it's life. That Tempur-Pedic manufactures long-lasting mattresses is evident from their warranty strategy.
Tempur-Pedic's 10-year full replacement warranty is pretty straightforward. The warranty covers manufacturing defects on the set for ten years. It is crucial to note that this warranty does not cover any physical damage to the mattress, such as burns, liquid stains, or cuts. Which is why it is imperative to purchase and use a mattress protector with whatever mattress you buy.
Tempur-Pedic - Average life of a mattress
Your investment in a Tempur-Pedic mattress comes with the understanding that their mattresses have a longer life than many traditional innerspring mattresses on the market. In addition, the memory foam cores in the Tempur-Pedic mattresses deliver comfort while adding to the mattress's lifespan.
The memory foam core shapes itself to suit your body and its curves in the best manner so that you get the best night's sleep. It is estimated that a well-cared Tempur-Pedic memory foam mattress can last as long as 15 years. Such durability is nearly twice that of some other mattresses available in the market.
However, the longevity of your mattress depends on your care of it
So far, we have discussed the factors that can affect the mattress lifespan, even with the premium build quality of Tempur-Pedic. Now we will delve deeper into understanding how to make a mattress last longer.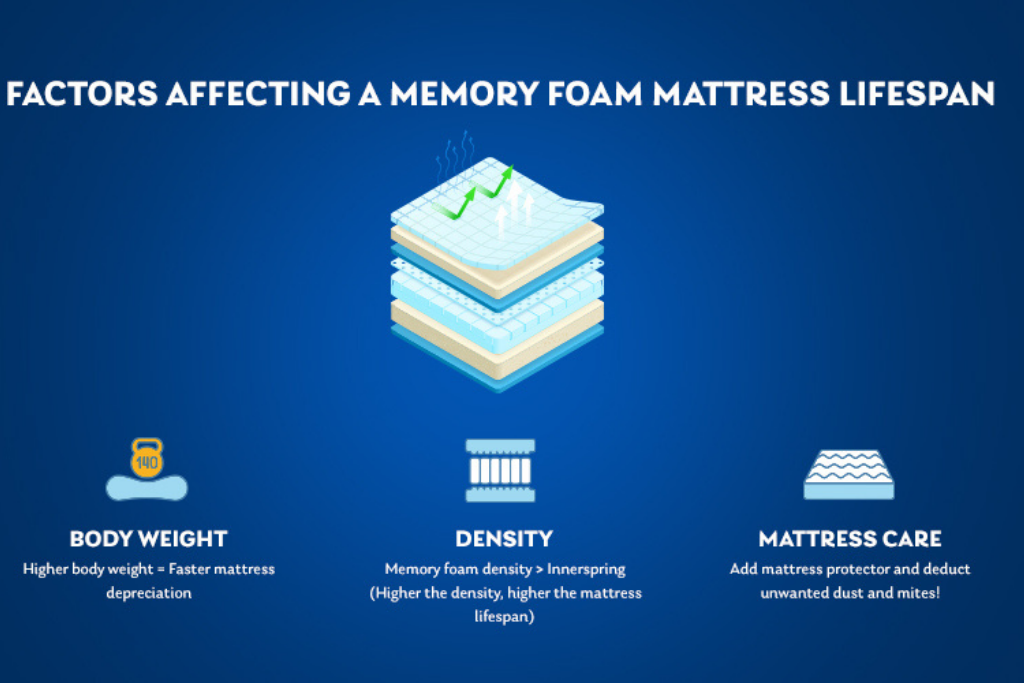 Three great tips to extend your mattress's lifespan
Airing out your mattress
When it's bright and sunny outside, allow your memory foam mattress to air out/breathe. Remove your bedding and turn on your ceiling fan to let it dry out for a few hours. Your mattress absorbs excess moisture when you are asleep; airing out will help get rid of it. Also, the build-up of any kind of odor can be reduced with this practice.
Having moisture trapped in might lead to bacteria and molds in the mattress, and hence airing it out this way will keep it better for longer.
Rotating your mattress
Sleeping on only one side of the mattress leads to de-shaping of the same after a while. This is why we recommend you rotate your mattress once every two-three weeks for 6 months after purchase and then at least twice a year is highly recommended to keep it in good shape. Rotate your mattress 180 degrees to place your head where your feet used to be. This helps distribute pressure evenly across the mattress and reduces the chance of damage.
Wash your bedding regularly
Besides keeping your mattress clean, you need to think of keeping everything clean that's part of your bedding. Regularly wash your sheet, pillow covers, mattress protector, and blankets to make your mattress fresh like spring, even during winters!
Always use a mattress protector
We also can inadvertently reduce our mattress lifespan. We sweat as we sleep through the night, we allow out pets and children to sleep on our beds, we even bring back unwanted critters back from trips.
It's often said that a mattress gains weight throughout it's life, as we shed dead skin cells and detritus on the mattress. Plus, there has been a lot of news lately about bed bugs and their dangers. It's important to take precautions to keep bed bugs away from your mattress as they are harmful to you and your mattress.
The most important way you can take care of your mattress is by always keeping a mattress protector on it. A premium mattress protector will reduce allergens, repel liquids that might stain, and even protect from bed bugs. Most manufacturer's warranties rely on the mattress being stain-free, and even a small stain can void your mattress warranty, so keep a mattress protector on your bed.
With all this said, Tempur-Pedic is one of the most highly respected brands that have gained appreciation in the industry for their high-quality products. Your sleep is an investment, and you can rest assured of getting great value for money with a Tempur-Pedic mattress.