A good night's sleep is all you need to maintain your well-being and health and a high-quality, cozy mattress can give you the sleep you deserve.
Luxury mattresses are not only comfortable but also provide many health benefits. Some include preventing chronic pain, improving spine support, and improving posture.
So, have you ever wondered, "where can I find the best luxury mattresses near me?" or does the very thought of sleeping on the best luxury mattress ever entice you? Then, you are at the right place.
Why should you buy a luxury mattress?
If you are looking for superior comfort and support, then a high-quality luxury mattress is all you need. It provides you with the most restful sleep and utmost relaxation compared to affordable ones.
The coils of these mattresses are typically more durable and far more substantial than the standard mattresses. These crafted luxury mattresses have thicker padding and provide exceptional support and comfort.
Comfort is further improved by the layers of memory foam and pillow tops that enhance your sleeping experience. So, despite their higher prices, they are always a wiser investment in the long run.
What differentiates a luxury mattress from a standard one?
Apart from the quality of sleep, the best luxury mattress is in a class on its own. They are designed to provide optimal comfort and support for a sound sleep every night.
The durability of a luxury mattress is par excellence, and you do not have to worry about further investment for years despite the high costs.
The best thing about a luxury mattress is its availability in different types to suit the needs of different sleepers. While some mattresses typically feature layers of memory foam for added comfort, others are usually designed for people with other sleep issues.
Therefore, it is always essential to prioritize the quality of sleep and comfort over everything else.
Top reasons to choose a luxury mattress
A luxury mattress justifies its name in all aspects and has many benefits.
Innovative technology
If you want to improve your sleep, you should choose the best luxury mattress. It is built with the most adjustable and innovative technology, and fantastic features like customizable firmness and temperature control to ensure the best sleeping environment.
These mattresses are produced with high-quality materials to ensure pressure relief and support are in place for years to come. So, you can undoubtedly expect less tossing and turning at night, providing a good night's sleep all night long.
Excellent Support
A quality mattress ensures the best support and cushion. Every sleeper's body unique and therefore, it is crucial that a mattress naturally adjusts to the sleeper's body shape to support pressure points and equal weight distribution.
The materials used are of high-quality offering better durability and support.
Cost-effective and Durable
Handcrafted luxury mattresses are designed to last longer, and high-quality materials used are engineered to withstand years of use. They are also covered under warranty protection and make your investment cost-effective in the long run.
Superior Comfort
Comfort is the utmost essential aspect of sound sleep and these mattresses are designed to provide you with just the same. Unique features and thicker padding, including memory foam and pillow tops, can further ensure this experience.
These mattresses have an internal support mechanism that prevent pains and aches, ensuring that you wake up feeling well-rested and refreshed every morning.
Relief from pressure points
If your body is not adequately supported while lying down, you will develop-pressure points and experience pain and discomfort. So, these mattresses are designed to distribute your body weight and eliminate unnecessary pressure.
Undisturbed Sleep
Turning and tossing at night disturbs your sleep and causes frustration, resulting in sore muscles and an unrested body. Handcrafted luxury mattress will reduce this with cushioning and support to help you sleep well without any disturbance.
Limited Motion Transfer
If you habitually move around or get in and out of bed at night, you might have experienced disrupted sleep. This is caused due to motion transfer.
Luxury mattresses can minimize motion transfer. This ensures that you sleep peacefully, even when your partner moves around the bed all night.
Noise
The advantage of luxury mattresses is that they do not make noise. Therefore, no squeaking or creaking will disturb your sleep.
Types of mattresses that will enhance your bedroom decor
While we have discussed the benefits of owning a handcrafted luxury mattress, we must also discuss the different types.
These mattresses are available in several types for unique and specific benefits.
Innerspring mattress
Memory-foam mattress
Hybrid mattress
Latex mattress
All of the mattresses mentioned above have excellent benefits and have been designed to support every type of sleeper. As a result, you would get a more comfortable and peaceful sleeping experience.
Which is the best mattress for you?
This is the first question that your mind strikes when choosing a luxury mattress. The rule of one-size-fits-all does not imply here. So, what is the right mattress for you?
A side sleeper needs a soft mattress that relieves pressure from their shoulders and hips and should have good edge support to avoid rolling down. Therefore, memory foam mattress should be the best bet here as it provides support and softness.
A medium-firm mattress is the most ideal choice that supports the spine of a back sleeper. Therefore, a hybrid mattress should be your call for comfort and support.
Stomach sleepers need a firm mattress for support. Hence, an innerspring mattress should be the call of the hour if you fall under this category of sleepers.
Stearns and Foster Reserve Firm Pillow Top Mattress 17"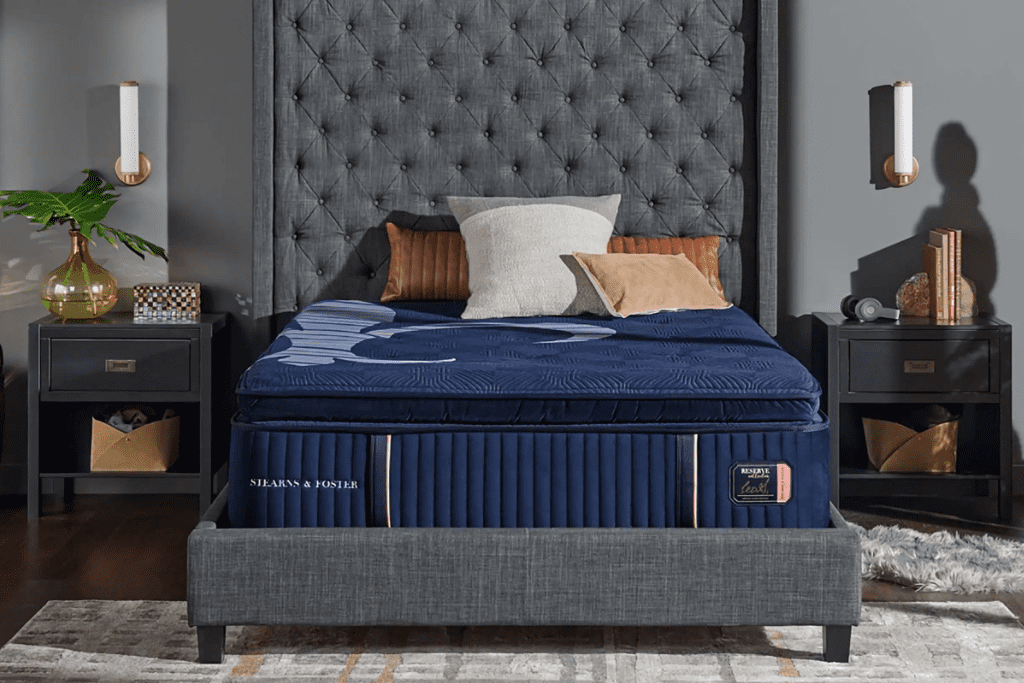 This firm euro pillow top Stearns & Foster from Reserve collection is the highest expression of quality and the most comfortable mattress ever made. Meticulously designed with the finest materials to deliver one-of-a-kind comfort from an enhanced hand tufted cool-to-the-touch cover, beautiful velvet borders and layers of pressure relieving support from Tempur Indulge memory foam durable latex plus the highest counts of supportive IntelliCoilHD innerspring. The collection delivers a sleep experience unlike anything else.
Beautyrest Black CX-Class Plush Hybrid Mattress 15"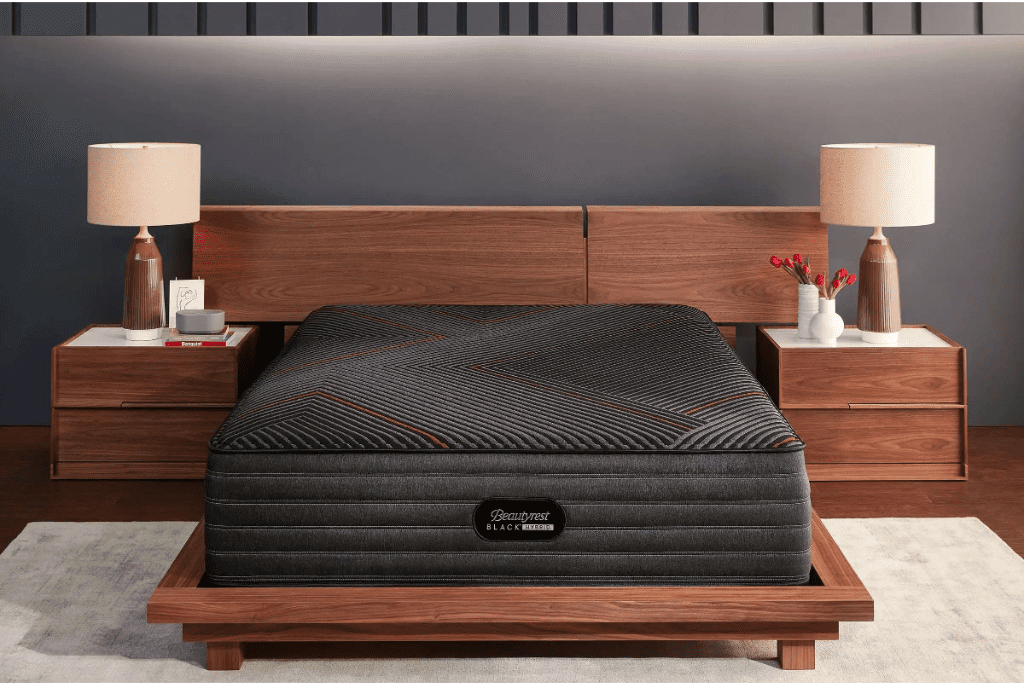 Elevate your sleep to a luxurious reward night after night. The most advanced collection yet, Beautyrest Black Hybrid CX-Class offers up to 21 percent more support where your body needs it the most. With help from a new plant-based cooling technology, the collection provides up to 18 percent more cooling power to keep you comfortable as you fall asleep and all night long. In addition to the support and cooling systems, the Beautyrest Black Hybrid CX-Class includes comfort and pressure-relieving upgrades for up to 27 percent more pressure relief than Beautyrest Black Hybrid LX-Class models.
A luxurious layer, made with silk, alpaca and cashmere provides unmatched comfort and breathability while Self-Response Latex ensures individualized support for different parts of your body. These innovative features are paired with an all-new modern design and hybrid construction to create a first-class sleep experience that will leave you feeling invigorated to take on your day.
Kluft Royal Ascent Plush Mattress 15"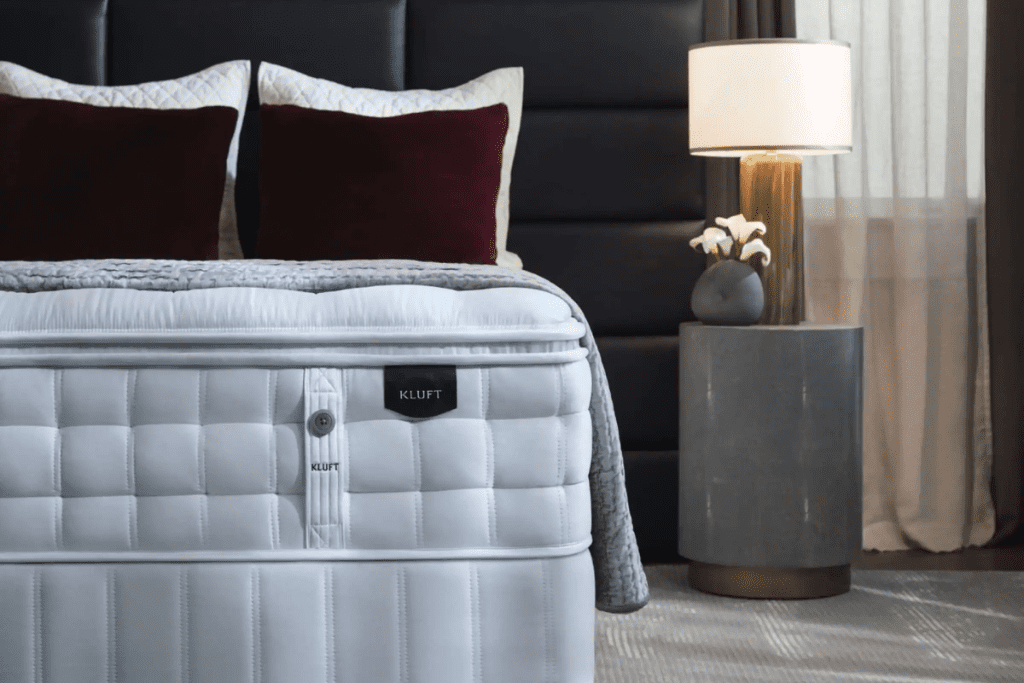 Master artisans craft every Kluft mattress by hand, creating the world's purest expression of comfort and elegance. Featuring the patented Kluft Standard construction and designed with the finest natural materials, individual inserted hand tufts and an unmatched nested coil system, a Kluft mattress will provide maximum pressure relief, extraordinary support and unsurpassed comfort.
The final words:
Handcrafted luxury mattresses enhance your bedroom decor and ensure that you sleep peacefully every night. It may be a significant investment, but it is the most reliable option providing durability and support.
Now that you know the benefits and types, give yourself the experience of a deep and peaceful slumber. Check out the wide range of handcrafted luxury mattresses at Mancini's Sleepworld.