Are you worried that the mattress protector you are planning to buy might end up leaving you sweaty at night?
While you need that best quality mattress protector to keep your mattress away from dirt, stains, and spills, but not at the cost of your peaceful sleep.
Your luxurious mattress highly deserves a protector, but are you still wondering if it will lead you to a hot sleep. The ones with low-quality materials, definitely will.
If your mattress protector causes sweating at night, you should consider a different one. Some mattress protectors provide a cooler sleep surface utilizing thermo-regulating materials such as Tencel fibers, we'll discuss this more in detail.
Should you drop the idea of a mattress protector?
No. Waterproof mattress protectors are a must as they help you keep your mattress clean and hygienic and will prevent a voided manufacturer's warranty on your mattress.
While some waterproof mattress protectors may leave you sweating at night, we have a solution for you- cooling mattress protectors!
Again, every cooling mattress protector might not work, and you need to be thorough on the choice you make. This blog will help you save your mattress while also keeping you away from the sweat you hate.
Before diving deeper into the solution, let's understand what leads to this problem.
Why does a waterproof mattress protector make you feel hot?
The ultimate reason for buying a mattress protector is that it keeps your mattress clean from dirt, dust, and stains. The quality of sleep increases if your mattress is clean, and a mattress protector does that for you.
The material used for waterproofing safeguards the mattress against water and is mostly made up of plastic. However, due to the plastic material, the heat from the body gets trapped, which leads to sweating at night.
The breathability of the plastic membrane that allows it to be waterproof remains the decisive point for a buyer. To avoid night sweats, you have to rely on protective mattress covers made of cotton, Tencel, bamboo, or copper-infused ones.
How do cooling mattress protectors work?
The cooling mattress protectors work by absorbing the excess heat from your body. In this pursuit, they make your mattress comfortable and sleep worthy. Cooling mattress protectors are made up of materials that soak your body heat and reduce night sweats.
Also, some materials absorb the excess moisture and keep you dry when you sleep. Hence, allowing you to sleep just right for the whole night!
Now it's time to discover the Best Cooling Mattress Protectors Near You
When you care for your mattress, you go the extra mile to keep it in the best condition. The daily wear and tear will definitely shorten its lifespan. Mancini's Sleepworld offers a warranty on your valued mattress, but a stained mattress might even hinder the warranty.
We have some of the "coolest mattress protectors" that help you sleep cool like a cucumber.
Protect A Bed- Therm-A-Sleep Cool Mattress Protector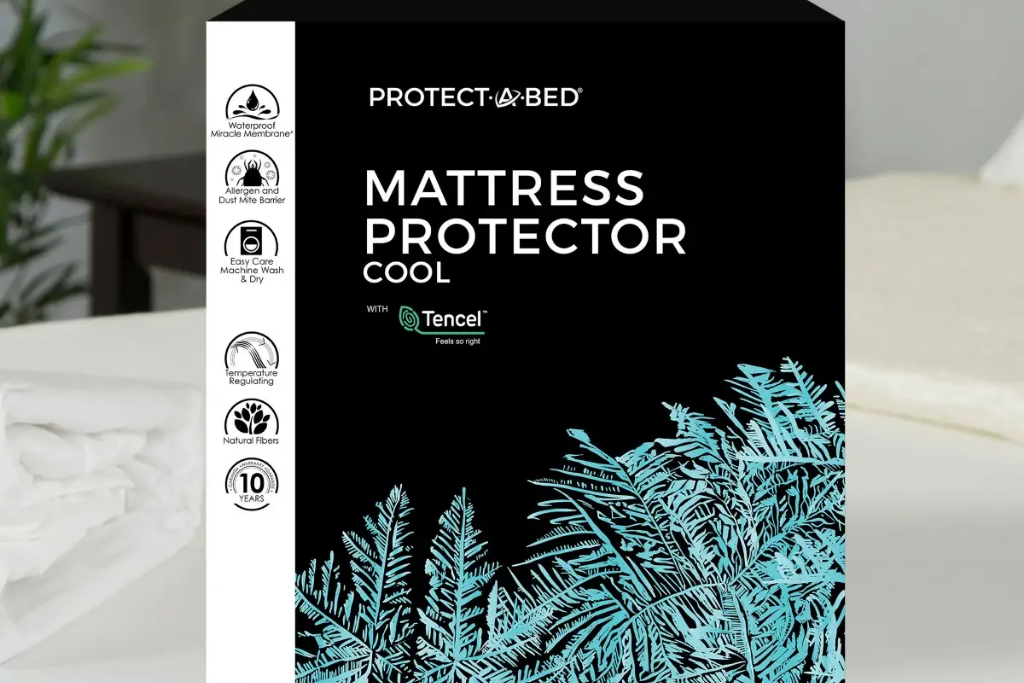 This mattress protector is 100% Natural Tencel, a hypoallergenic material. This prevents the growth of bacteria and at the same time has thermos regulating capabilities which makes it best suited for sensitive skin. This mattress protector is also touted as one of the best waterproof mattress protectors by sleep consultants at Mancini's Sleepworld due to the miracle membrane that makes it 100% waterproof.
Protect A Bed- Cooling Copper Mattress Protector
Protect A Bed Cooling Copper Mattress Protector is often referred to as the best California king-size waterproof mattress protector. This mattress protector saves your mattress from dust, mites, allergens, and water spills with miracle membrane technology. The cooling technology and moisture-wicking abilities help you keep your bedroom at its best for deep sleep.
Also, this waterproof mattress protector offers better airflow and an easy-to-machine-wash feature making it simply uber-awesome for you!
Top things to consider while buying a waterproof mattress protector
Now that you know night sweats you fear can be avoided, here's a brief guide for you to keep handy while choosing a waterproof mattress protector.
The materials used –
Cotton
Cotton fabric has a high absorption rate, which helps wick away the moisture and allows great breathability. When the cotton material is saturated with moisture, it evaporates the extra moisture, creating a cooling effect on the skin.
Tencel
Tencel is 100% natural material made of Eucalyptus, oak trees, and birch. The material was initially used to create sports fabric, and then the bedding industry saw its potential and used the same to develop cooling mattress protectors.
Note- Tencel material waterproof mattress protectors also come with hypoallergenic features.
Pick the right size-
While your sweating problem might now be gone if you choose a mattress protector of the suitable material, the next big thing is – size!
You don't want to get up every day to re-adjust your mattress protector, isn't it? That's why, before getting one, measure the depth of your mattress. The three popular types of mattress protectors are-
Encasement protectors are six-sided and tend to cover every inch of your mattress. It allows keeping the bugs away from your bed.
Fitted protectors, on the other hand, are five-sided, and they are placed over the mattress like a bedsheet. However, the only drawback is that not all of them protect the bottom of your mattress.
Anchored or strapped mattress protectors are fitted to the bed using straps that might pop off the edges. These are generally thicker and might change the way your mattress may feel.
Conclusion
To have a restful sleep experience, it is essential to ensure that you pick the right bedding to go with it. Mancini's Sleepworld brings all that you need to make the most out of your mattress. Be it a cooling mattress protector or a great cooling mattress itself. Visit and speak to our sleep consultants and make the most out of your next mattress purchase. Also, you get special financing, great deals, and many more when you drop in to our store.