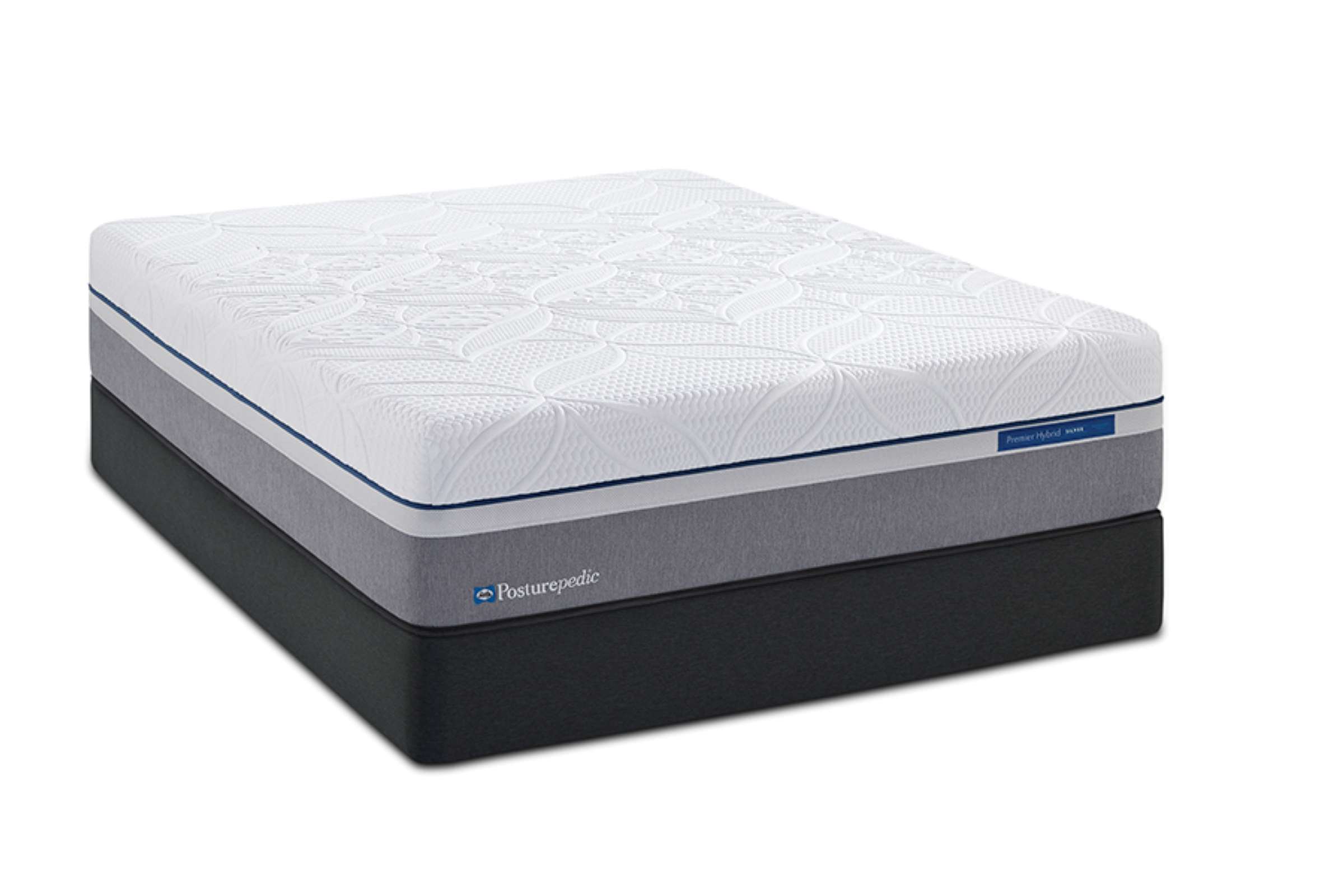 Sealy Posturepedic Hybrid Copper Plush
You have 0 items in your cart
Mancini's 120 Day Mattress Price Guarantee
At Mancini's price is not an issue. Show us any local competitor's advertisement (Excluding Internet Pricing) on any Serta, Simmons, Sealy, Sterns & Fosters and Aireloom mattress within 120 days of your original purchase and we will be that price by 10%. Price guarantee applies only to new merchandise from local stocking dealers.
120 Day Money Back Guarantee
You have the option of receiving a ONE TIME full refund for your mattress set within 120 days or purchase, if you have not already done an exchange. No returns will be allowed for the first 30 days. The mattress you want to return must have the law label attached and be free from damage, abuse or stains. The following items DO NOT qualify for our Money Back Guarantee or Comfort Exchange Guarantee: Warranty Replacements, Damaged, Abused or Stained Mattresses, "As-Is" Mattresses, Floor Models, Special Order Items, Furniture and/or Adjustable Bases. If you received any promotional items with your purchase, those items must be returned with the mattress set. If you wish to keep any promotional items, contact the store and pay for those items (current sale price); that amount will be deducted from the refund. If you do purchase with us again, then only the Exchange Guarantee will apply.
120 Day Comfort Exchange Guarantee
You have the option of receiving a ONE TIME exchange for your mattress set within 120 days or purchase. No exchanges will be allowed for the first 30 days. The mattress you want to exchange must have the law label attached and be free from damage, abuse or stains. The following items DO NOT qualify for our Comfort Exchange Guarantee: Warranty Replacements, Damaged, Abused or Stained Mattresses, "As-Is" Mattresses, Floor Models, Special Order Items, Furniture and/or Adjustable Bases. You may select a mattress at any dollar value. If you select a mattress that is more expensive, you only pay the difference in the sale price. If you select a mattress that is less expensive, you will be refunded the difference * See Refunds and Returns. In order to simplify this process and create consistency from store to store, customers will receive discounts similar to their original purchase (Excluding Serta iComfort/iSeries).
Refunds and Returns
All deliveries signed for are final with the exception of purchases that qualify for our 120 Day Money Back Guarantee or Comfort Exchange Guarantee. See Money Back Guarantee or Comfort Exchange Guarantee for more information. If you paid by Cash or Check, you will receive a refund check, from Mancini's Sleepworld Corporate Office, in the mail within 1-2 weeks. If you paid by Credit Card, please call the store at which you made your purchase and they will process the refund for you. Your refund may take an additional 3-5 business days to see on your credit card statement.
Free Delivery, Setup & Removal
Free delivery, setup and removal apply to mattress sales of $299 or greater only, does not apply to furniture or futon sales. See store for details.Online Catalog Accessories visible in photos (mattresses, pillows, shams, covers, sheets etc) are not included in purchase unless specified. Products are currently available for local Northern California delivery only. Some assembly required on all furniture products.
Typographic Errors
Due to the nature of Internet Communication, typographic and technological errors are bound to occur. Mancini's Sleepworld strives to provide accurate and timely information, however cannot be held responsible for these errors.
Privacy Policy
Mancini's Sleepworld honors their customer's privacy. We may collect customer data to improve our customers' online experience and to better communicate with our customers about products, services and promotions. We value our customers and know that we must maintain and use customer information responsibly. We do not sell or rent the information you provide to us online to third parties. In the processes of transferring data through our online store, however, we must collect information that is shared with our third-party vendors. We do not authorize the usage of this information for any other purposes except your purchases and communications with Mancini's Sleepworld.
Outside Links
Our website contains links to other sites that are not controlled by Mancini's Sleepworld. These third-party sites have their own policies regarding privacy. Mancini's Sleepworld takes no responsibility for these websites, and provide these links solely for the convenience and information of our customers.
These policies are subject to change without notice, please contact Mancini's Sleepworld directly at 800-64-SLEEP for more information.
Mattress Protection Plan
With our busy schedules, there is barely enough time to eat and sleep! Sometimes we even bring food into bed! Stains and spills can happen, but a stain can ruin your mattress and void your warranty.
Mancini's Sleepworld offers our Mattress Protection plan including Protect-A-Bed® premium mattress protectors to protect your sleep investment from food and beverages, human and pet bodily fluids.
Protect-A-Bed® Premium mattress protectors are guaranteed for 10 years against fabric and manufacturing defects and will protect your warranty when purchased with a mattress set from Mancini's Sleepworld with Protect-A-Bed's spillage warranty.
Mattress protectors are needed for every bed. Every mattress needs protection from allergens, irritants, liquids and stains, protection that a typical mattress cover may not provide. Mancini's Sleepworld provides Protect-A-Bed mattress protectors to keep your mattress clean and promote excellent hygiene. Protect-A-Bed mattress protectors help create a dry, allergy-free sleep environment for people of all ages.
Mancini's also provides Protect-A-Bed® allergy relief solutions that put an impenetrable barrier between you and allergens, allowing you to get the perfect, allergy-free sleep you've always dreamed of.
Protect-A-Bed Mattress Protectors
Guaranteed to moderate temperature and enhance sleeping comfort
Waterproof yet air vapor porous - acting the same way as human skin
Effective in preventing bacteria and dust mites from breeding in your pillow and mattress (a major cause of asthma, eczema and rhinitis)
Protects mattresses from stains (accidental spills, perspiration, bodily fluids)
Machine washable on hot, tumble dry medium
Especially helpful in cases of incontinence
Ultra thin with four-way stretch does not detract from the comfort of the mattress
Can be used on all visco elastic, inner spring and latex mattresses
Fitted-sheet style
Expandable skirt ensures mattress protector fits any depth of mattress (8" to 20")
Wash durability rating: > 200 washes
Soft and super absorbent
Can be sterilized at 121° C/250° F
Tested for harmful substances according to Oeko-Tex Standard 100
Contact your nearest Mancini's Sleepworld for complete information and details or visit Protect-A-Bed.
Mattress Care Instructions
Any new mattress will require some time of adjustment, just like a new pair of shoes. It make take a week or longer for you to get used to your bed, or it may happen that first night. It is important, however, that you properly care for your new sleep investment.
Do I Need a New Boxspring?
We're often asked about new boxsprings, sometimes called foundations. Why throw out a perfectly good box of springs?
If you have owned your mattress for some time, chances are that the boxsprings have borne the brunt of the support over the years. Since the foundation is a key to good sleep support, new boxsprings can provide that support and insure the of life the mattress by reducing wear.
Also, keep in mind that many manufacturers warranty their mattresses only when used in combination with their foundation. Ask one of our representatives before purchase.
Body Impressions
Memory foam, latex and conventional quilted beds can all develop impressions as a result of the material conforming to your body. Body impressions are normal and do not mean that the mattress is defective. However, to prevent excessive body impressions you must rotate your mattress and sleep over the entire surface.
Rotating Your Mattress
Rotating your mattress will condition the materials inside providing lasting comfort and maximizing the life of the product.
In order to properly "break-in" and condition your mattress and to evenly distribute the comfort layers, helping minimized body impressions, it is important that you rotate your mattress. During the "break-in" period rotate the mattress after the first 2~4 weeks, or when body impressions first occur. Remember to sleep over the entire surface.
Stain Protection
One doesn't often consider the possibility of stains when purchasing a new mattress. But since most manufacturer's warranties are valid only on stain-free mattresses, Mancini's Sleepworld recommends a mattress protector be used on all new mattresses. Not only does a quality mattress protector protect from spills but they can also repel allergens, odors and body fluids.
Mancini's offers a Mattress Protection Plan using Protect-A-Bed® Premium mattress protectors to provide you with the best possible protection.
Warranties
Keep in mind that warranties are valid only when the product is properly cared for. This includes rotating the mattress, using it with a matched foundation, and preventing stains. Each manufacturer has different warranty procedures and Mancini's recommends that you read your warranty carefully and follow its instructions.
Mattress Sizes
Cal King:
72 in. x 84 in.
Eastern King:
76 in. x 80 in.
These are generic sizes, each bed will differ slightly due to differences in construction. Call 800-64-SLEEP for more information.
Sealy Posturepedic Hybrid Copper Plush
At Sealy we always dream of ways to make a better mattress. This Hybrid is made with individually encased Titanium coils that delivers ultra-conforming support while reducing motion transfer between sleep partners and the other half is memory foam with OptiCool gel memory foam fused with Outlast for a not too hot and not too cool sleeping surface . It's the best of both worlds. This contemporary styled mattress has a Stay Tight Foundation the rubberized foundation cover holds sheets in place and stops the mattress from shifting.